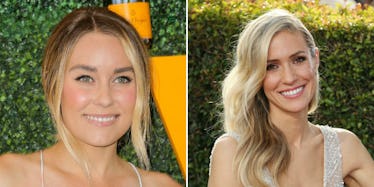 Lauren Conrad Might Be Stealing Baby Names From Kristin Cavallari
REX/Shu
Does high school drama ever die? Do you still dish about your frenemy to your real friends? Do you secretly delight in the failings of them when you see their Facebook?
I don't because I'm old and literally do not care -- I'm too worried about developing osteoporosis at this point.
But Lauren Conrad could still be trying to one-up her former "Laguna Beach" co-star and "The Hills" successor Kristin Cavallari.
Back in the day, they were fighting over the same guy. Now, they may be fighting over the same baby name.
But it's probably just a coincidence.
When asked about Conrad's pregnancy, Cavallari told ET,
I haven't talked to her in years, but what an exciting time in her life! I'm so happy for her, and it's cool to see the evolution of everybody from 'The Hills' and 'Laguna Beach' and to see how everyone is growing up. It's been really fun to watch!
RECENTLY, HOWEVER, A HUGE DRAMA BOMB EXPLODED.
Conrad's editors disclosed her and husband William Tell's top baby names on her personal site LaurenConrad.com.
The top two names are no big deal. "Hazel" comes in at the lead, and it is also in the top five of the most popular baby girl names for 2017. Maybe it is due to the popularity of "The Fault in Our Stars?"
Their second choice is "River," which might be due to the fact they're just big "Dr. Who" fans and are paying tribute to the character River Song?
But their third choice raises a few eyebrows: "Sailor."
The site reads,
We blame it on living in Southern California but we love a name that reflects living near a body of water. We're picturing a baby girl donning this adorable name.
Kristin Cavallari and husband Jay Cutler's daughter is named Saylor James Cutler.
SAILOR. SAYLOR.
COME ON, LAUREN.
But it is a popular celebrity baby name.
Bristol Palin also named her daughter Sailor, model Christie Brinkley named her daughter Sailor in 1998, and Liv Tyler named her son Sailor almost two years ago.
Citations: Lauren Conrad Drops Major Hints About Baby Names (Refinery29)