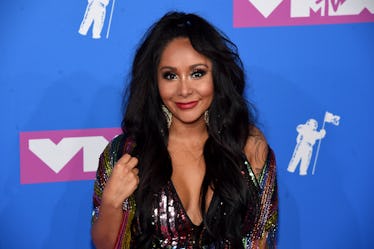 Snooki Just Revealed If She's Planning On Having More Kids Or Not
Jamie McCarthy/Getty Images Entertainment/Getty Images
Listen up, guidos and guidettes: Jersey Shore star Nicole "Snooki" Polizzi is everyone's favorite meatball, but she and husband Jionni LaValle have two meatballs of their own — 5-year-old Lorenzo and 3-year-old Giovanna. But will Snooki have more kids? She revealed whether or not she's ready to bring another fist-pumper into this world, and all signs are pointing to a definite yes.
While attending the 2018 MTV VMAs in New York City on Monday, Aug. 20, Snooki spoke with Entertainment Tonight's reporter Keltie Knight and revealed that she and her husband are already trying (!!!) for a third child.
When asked about having another child someday, she said, "I'm trying now! I'm practicing now."
BACK UP THE GRAVY TRAIN, FOLKS. Snooki's prepping for Baby #3!
"It's going good," Snooki continued, adding, "I'm not pregnant yet but, I mean, we've been practicing for a month now so…"
I'm totally calling the fact that we're going to find out about another Jersey Shore offspring in our near future, y'all.
Snooki also talked about how difficult it was to leave her family for the upcoming second season of Jersey Shore: Family Vacation, where she and the rest of the Jersey clan visit Las Vegas before returning to their favorite beach town on the East Coast. She said:
It was hard for me, you know, leaving the babies, obviously. But it's such a good time to honestly go away for five days, just be yourself and not care about 'Oh, we have to wake up at 7 a.m., make the kids lunch, go to school.' It's a nice getaway, but at some point I'm like, 'All right, it's time to go home.' But honestly, it was such a good time.
Despite missing her family desperately, I have a feeling that she was somehow able to let loose and have fun.
Just a hunch!
And, if Snooki does in fact get pregnant soon, she'll be joining co-star Deena Cortese, who is pregnant with her first meatball with husband Chris Buckner.
Cortese took to Instagram on July 2 to announce the news that she was in her second trimester and was expecting a baby boy this December. She wrote,
Chris and I Decided to wait until we were ready to spill the beans! 💙Now that we are safely into our second trimester.. us and our little monkey are ready to tell the world Our little family is growing ! We have a sweet little boy on the way! We Are truly blessed and our hearts are filled with so much joy and happiness💙 December can't come soon enough! Daddy and Mommy can't wait to meet you Christopher John❤️ you are going to be the most spoiled little boy ever!!!!
And funnily enough, Jersey Shore Family Vacation Season 2 will be centered around another baby — Ronnie's daughter with his girlfriend Jen Harley, Ariana Sky, and the difficulties the new dad faced as a first-time parent.
You can check out just a few of the highlights that this season has to offer in the trailer below:
I seriously can't wait to watch the gang GTL — except this time, they'll be washing onesies along with their club outfits.
Let's hope those cabs have car seats, y'all.