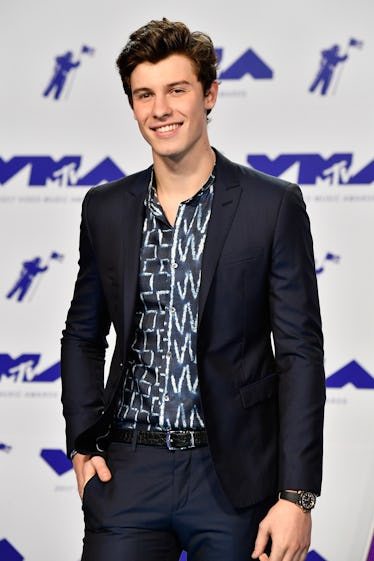 The MTV VMAs Are Going To Be Extra Long This Year For The Best Reason
Frazer Harrison/Getty Images Entertainment/Getty Images
The 2018 MTV Video Music Awards are coming up on Monday, Aug. 20, and this is one show you definitely don't want to miss. In addition to the main Moonman ceremony, there's also going to be an awesome pre-show that you'll want to tune in for. Given that there's so much VMA goodness to watch that evening, you'll need to clear your schedule in advance. So, how long are the 2018 VMAs? With the pre-show and the awards ceremony itself, you're looking at a total of three hours.
There's a lot of interesting stuff that's going to down during the pre-show and main awards ceremony. From star-studded red carpet appearances to incredible performances by your favorite artists, there's bound to be something for everyone. And you definitely want to make sure you're all caught up beforehand. So, let's break down the pre-show and awards ceremony bit by bit:
The 2018 MTV VMA Red Carpet Pre-Show
The VMA red carpet pre-show is going to be jam-packed with all your favorite stars. Shawn Mendes, Ariana Grande, Cardi B, Post Malone, and Travis Scott are all expected to arrive on the red carpet. And if that's not enough, you'll be treated to a performance by the Backstreet Boys, so, expect to have all your nostalgia buttons pushed. Bazzi and Bryce Vine are also said to be performing during the pre-show.
Needless to say, it's going to be a fun time. And that's even before the main awards ceremony, which is going to be even better. In any case, the VMA red carpet starts at 6:30 p.m. and the pre-show begins at 8 p.m. ET.
According E! News, Terrence J and Nessa are set to host the pre-show. Pauly D and Vinny Guadagnino from Jersey Shore: Family Vacation will also be on hand as correspondents during the pre-show. Additionally, model Winnie Harlow will appear as a fashion correspondent.
The 2018 MTV Video Music Awards Ceremony
With that awesome pre-show as an introduction of sorts, the main VMA show will definitely not disappoint. Not only is Cardi B supposed to open the show (just a month after giving birth, no less!), but viewers all around the world will be treated to performances by Shawn Mendes, Nicki Minaj, Post Malone, Travis Scott, Panic! At the Disco, and Ariana Grande. Jennifer Lopez is also slated to perform as well as accept the 2018 Michael Jackson Video Vanguard Award.
Additionally, Justin Bieber, DJ Khaled, Chance the Rapper, Quavo, Bruno Mars, Drake, The Carters, Camila Cabello, and Hayley Kiyoko are all nominated for VMAs this year. With that in mind, it's very likely that most of them will make an appearance at some point during the show. So, the main awards ceremony is going to be wild and supremely entertaining.
The 2018 MTV Video Music Awards ceremony will start at 9 p.m. ET. The red carpet pre-show and the main ceremony will both take place at Radio City Music Hall in New York City.
You can watch the pre-show and following ceremony on MTV if you have cable. You can also catch the show on the MTV app or on your cable provider's website. Make sure you have everything ready to go on Monday, Aug. 20!