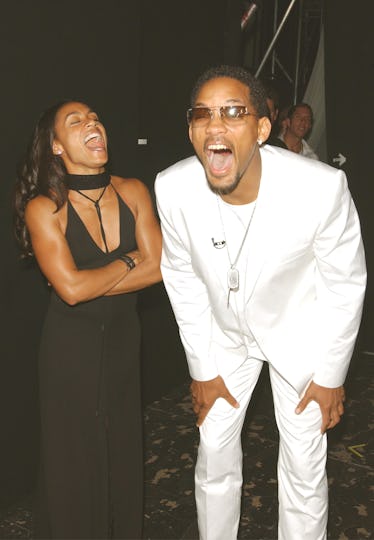 Will Smith & Jada Pinkett-Smith's Relationship Timeline Is Refreshingly Real
Frank Micelotta Archive/Getty Images Entertainment/Getty Images
It's no secret that Hollywood doesn't have the best track record when it comes to long-lasting relationships. Will Smith and Jada Pinkett-Smith are seemingly the exception to the rule, however, having been married for a whopping 23 years. Not only do they never seem to age (seriously, WTF is their secret?) and always look drop-dead gorge on the red carpet, but they've also celebrated each other's career wins and stood by each other's side through numerous setbacks. I'm just going to say it: Will Smith and Jada Pinkett-Smith's relationship timeline is all the proof you need that true love can withstand the test of time.
The couple has repeatedly made it clear that they're in it for the long haul, too.
"With Jada, I stood up in front of God and said, 'Til death do us part,' Will told MTV News in 2006, according to Billboard, adding that "Divorce can't be an option."
In a June 2018 interview on Sway in the Morning, Jada reiterated that their family is "never going down."
"It doesn't matter... what people think, ideas of a husband and a partner and all that," she explained on the radio show. "At the end of the day, that's a man that can rely on me for the rest of his life, period."
Will and Jada are the epitome of goals: they've raised two awesome kids together all while co-producing films through their joint company Overbrook Entertainment — but best of all, they so very clearly DGAF about what the world thinks of their relationship. There are honestly *way* too many touching details to count about their decades-long romance, but let's revisit some of their defining moments as Hollywood's ride-or-die couple.