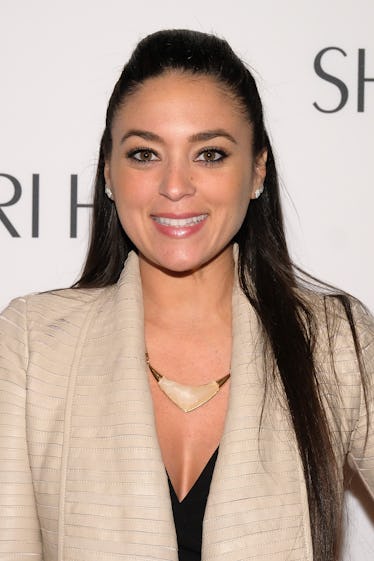 The Jersey Shore Cast Just Dished If Sammi Will Be On 'Family Vacation' Part 2 – EXCLUSIVE
D Dipasupil/Getty Images Entertainment/Getty Images
Sammi "Sweetheart" Giancola was notably absent from Season 1 of Jersey Shore Family Vacation, despite the fact that Pauly D brought along an inflatable doll that looked just like her. But my hopes were high that the former Jersey Shore castmate and Ronnie Magro's ex-girlfriend would start sipping the Ron-Ron juice and decide to join her former roomies in Las Vegas for the spinoff's new season. So will Sammi be on Jersey Shore Family Vacation Season 2? As much as I really, really want to see a Sam-Ron reunion in Sin City, it's not looking good, fam.
For starters, we know Sammi has NOT reached out to Ron following the birth of his baby girl Ariana four months ago. Check out the following comments from the cast of the show when they were asked, during an exclusive interview with Elite Daily, if Ron has heard from his former flame:
"Hell no," said Snooki.
"That's a big no," Vinny added.
Then Deena, who seems to be in contact with Sammi most post-Jersey Shore, shared this little nugget of insight: "She will never speak to him again."
Well, OK then. The J. Shore crew wasn't quite as confident when it came to whether or not we will ever see Sammi back on the show — their answers ranged from "We wish," and "Hopefully, maybe," to "Maybe the Sammi doll" — but still, I'm getting the distinct feeling we won't be seeing her punch Ron in the face on TV again anytime soon.
NGL, I could def watch that clip forever.
Sammi famously posted a statement on her Instagram last Spring, explaining why she decided not to appear in Season 1.
"I have chosen not to join the show this season because I am at a completely different place in my life right now focusing on my businesses and relationship," she wrote. "I am not the same person as I was when I was 22. At 31, I am currently extremely happy in every aspect of my life and want to avoid potentially toxic situations."
Let's be real, her relationship with Ron WAS toxic. But even so, in an interview with People ahead of Season 1, Pauly D remained convinced that Sammi would show up for Season 2.
"I can almost bet on that," he said. "For someone to say no to that this time and then all the media and everybody, all those comments, she must see them, she must want to do it. I gotta say, she must have to want to do the second one."
Well guess what, Pauly? You were wrong. Such a bummer, right? But maybe — just MAYBE — we'll get see Sammi show up at Mike "The Situation" Sorrentino's wedding to Lauren Pesce, which will be a big storyline in Season 2.
"The wedding planning process is all throughout the season that's about to air," Sorrentino told Elite Daily. "I'm very excited for everyone to see it. I really can't give too much away, but my motto is 'Happy wife, happy life.'"
So will the cast get to be part of the wedding? "Of course, yes," Sorrentino said.
"For a small fee!" Pauly D jokingly added.
Looks like it's gonna be fist pumps all around! But will Sammi be fist pumping along with the rest of the cast? Only time will tell.