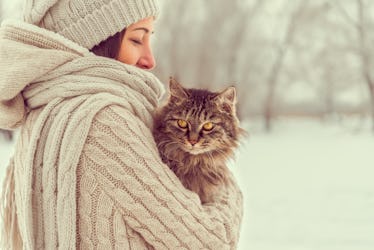 Will Pets Feel The Winter Solstice? Here's What You May Expect From Your Fur Bae
The shortest day of the year is almost here. Yes, that's right -- The Winter Solstice is happening on Thursday, Dec. 21. It's the one day of the year where the Northern Hemisphere is most distant from the sun, which means it receives the least amount of daylight hours. Say hello to the darkness, because it'll be here before you know it. The Winter Solstice marks the astrological first day of winter. If you happen to have a pet at home, you know how a change in weather can affect them, so will pets feel The Winter Solstice?
You might not see a drastic change in your pet's behavior, but there will be a slight difference. Though, it's nothing you wouldn't see happening in yourself. For instance, if you've been noticing that you need that extra afternoon coffee during the winter, it can all lead back to the season. Daylight matters to us as humans, and it also matters to other mammals. According to Live Science, we rely on light to let our internal clocks know what time of day it is. If there is less light out, our internal clocks are thrown way off. It's like when someone wakes you up before your alarm clock goes off, and you have no idea what time it is.
It's Officially Time To Take A Cat Nap
Just as you will be needing more naps in the winter, you will be finding that your cat or dog will also be needing more naps. For any cat owner, you can't imagine your feline friend needing more sleep time. Domesticated cats already sleep up to 16 hours a day.
The Winter Solstice will provide us with a little less than 10 hours of daylight, depending on where you are in the Northern Hemisphere. So, on average, your cat may very well be sleeping more hours in the day than there are hours of daylight.
You might even notice your pup is a little less active than normal, but who can blame them? It's cold and dark. I would want to curl up in my cozy bed and sleep, too. The winter is when you really notice your pet acting a little less peppy than usual.
Will The Longest Night Of The Year Make Your Pet Sad?
According to Live Science, people who have seasonal affective disorder, aka SAD, harbor melatonin for longer amounts of time throughout the winter. Melatonin is the sleep hormone that clues your body in on when it's time to head to sleep. Your body produces more of it at night, so you can blame the longest night of the year for why you'll be feeling a little sleepier on Winter Solstice day.
If you have SAD, your pet can actually suffer from it as well. According to Psychology Today, The People's Dispensary for Sick Animals conducted a survey that discovered about 40 percent of dog parents noticed their pets were a little more sad in the winter time. So, if you notice your pet needing to sleep more, this could be why.
What You Can Do With Your Pet For The Winter Solstice?
You can totally cheer your pup up if he's dealing with any wintertime blues. Spending more time with your dog or cat during The Winter Solstice will definitely make them happier. With the darkness outside, it's an easy excuse to stay at home and relax with your pet.
The Winter Solstice is a great night for watching a movie at home. Pick out something you know your dog or cat will enjoy watching as well. You can even make some festive winter treats for your pet that you know they will love.
If your pooch wants some fresh air, take him outside for a walk if it's not too cold out, and enjoy all of the holiday decorations. The Winter Solstice is signifying that winter is here, and you wouldn't want to spend it with anyone else but your furry best friend.