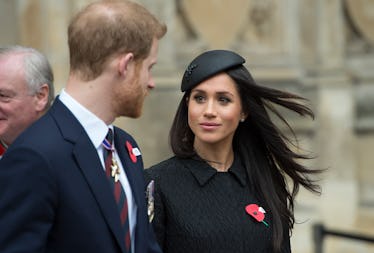 If You're Looking Forward To A Queen Meghan Markle, There's A Pretty Big Catch
WPA Pool/Getty Images Entertainment/Getty Images
Meghan Markle is about to be a part of the royal family, you guys! And the countdown is realer than ever. With all the excitement leading up to the highly anticipated event, many of us have one major question stuck on our brains: will Meghan Markle be in line for the throne?
Simply put: no. Royal weddings don't immediately affect succession rights. So even though Markle's fiancé Prince Harry is sixth in line to the throne, Markle won't be in line for succession, according to Bustle. In the — again, extremely unlikely — event that Prince Harry ascended to the British throne, Markle probably wouldn't even take the title of queen, much like Queen Elizabeth's husband, who's still known as Prince Phillip.
But like I said, it's super unlikely that would even happen. The Sun notes that as of now Prince Charles is next in line for the throne, after the Queen retires, dies, or abdicates. After Charles comes Harry's elder brother, Prince William, the Duke of Cambridge. And after William are his and Kate Middleton's children: Prince George, Princess Charlotte and the newest addition to their family, Prince Louis. And then comes Harry himself. But, if Markle and Prince Harry have children, their kids will come after William's children in the line of succession for the throne, so it works out.
Speaking of kids, though, there might be even more royal babies on the way quicker than you can say "OMG, yes!!" On March 20, royal expert Katie Nicholl, who's the author of Harry: Life, Loss, and Love, told Entertainment Tonight that Prince Harry wants to start having kids with Markle immediately after their wedding. "My sources are saying that Prince Harry, particularly, is very keen to start a family, pretty soon after the royal wedding," Nicholl said, adding, "He's made no secret about wanting children."
The two are set to wed on May 19, which means we could possibly see more babies by this time next year. (!!!) I can't believe it, and I just wanna know: how can I apply for the role of the godmother? Where is the registry gonna be? ...Thanks in advance.
But seriously, these two are so perfect together that I'm gonna be so ecstatic when they start expanding their family. They've become one of my absolute favorite couples to watch, especially after learning about their uber-romantic engagement.
The couple announced their engagement back in November 2017, after Harry proposed to Meghan earlier that month upon earning his parents' blessing. In their first interview after the engagement, Markle told the BBC that when they got engaged, it was "Just a cozy night, it was, what were we doing, just roasting chicken. It was an amazing surprise. It was so sweet and natural. Very romantic. He got on one knee."
Harry chimed in, saying, "I had the ring in my hand and I was like, 'Can I give you the ring now?' And she said, 'Oh yes, the ring!'"
The ring was apparently designed by Harry himself and features three diamonds, two of which are smaller ones from Princess Diana's personal collection. In the engagement interview, the prince added that he included the smaller stones so that his mother could be with them "on this crazy journey together."
Excuse me for a sec, my eyes are leaking uncontrollably.
OK, I'm good now.
So, even if the royal couple never takes the throne, I'm sure they'll be just fine. Besides, although Markle won't acquire succession rights, the Queen will likely name her and Harry a duke and duchess after they tie the knot, according to Vogue. So it's essentially a win-win situation for them both.
Either way, here's to Markle and Harry! They're gearing up to embark on a life-changing journey and, at the end of the day, that's most important. Wishing them tons of peace, love and happiness!