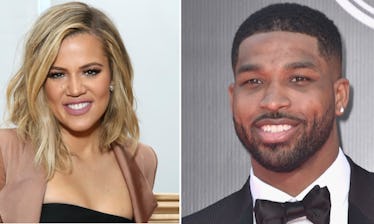 The 'KUWTK' Cameras Reportedly Caught Khloé's Reaction To Tristan's Cheating Allegations
CINDY ORD/GETTY IMAGES ENTERTAINMENT/GETTY IMAGES, ALBERTO E. RODRIGUEZ/GETTY IMAGES ENTERTAINMENT/GETTY IMAGES
What a week it's been for Khloé Kardashian! First, came the news on April 10 that her man, Tristan Thompson, was reportedly cheating on her. Then, just two days later, she became a mom for the very first time following the arrival of her sweet baby girl. Now, as much as I try to push it out of my mind, I can't help but wonder if a camera crew was around to capture all the drama. Sorry, but the new mama is a reality star, after all. So I really need to know: Will Khloé Kardashian's birth be on KUWTK? Because TBH, I kind of want to see her revel in the joy of bringing a new life into this world, even if it's all a little bittersweet. Ditto for all those the icy stares she prob threw Tristan's way in the delivery room.
Anyway, it looks like we may be in luck. Because according to People, not only was a crew for the E! series filming Kardashian at the hospital, but they also shot her over the past few days as she dealt with all the cheating allegations against what's his face. Sorry, I'm just a little angry right now and don't want to keep typing his name.
"Khloe labored with [mom Kris Jenner] yesterday at the hospital," a KUWTK source told People on April 12. "Tristan was there for the birth. He has practice today, but will spend as much time at the hospital as possible."
Awkward! Of course, who knows if this footage will ever actually air. I guess a lot of that depends on what comes next. But I'm loving the fact that Kardashian has the beautiful moment she first welcomed her daughter into the world on film, and I'm hanging onto the possibility that we all might get to see it on a future episode one day after all the dust has cleared. I just really need to see that look of awe and happiness on Kardashian's face so I know my girl is OK. Because TBH, ever since the cheating news first broke, I have just wanted the whole thing to turn out to be fake news. After everything she went through with Lamar Odom, my girl KoKo was finally supposed to get her happy ending with her faithful, loving man. I am so not OK with any of this.
ICYMI, The Daily Mail reported on April 10 that Thompson was seen making out with a woman in a club in Manhattan. And they had video, too, of a brunette woman possibly kissing someone wearing a white hoodie with a black Supreme jacket on top — and that someone looked a lot like what's his face. Elite Daily reached out to Kardashian and Thompson's teams for comment on the report but did not hear back by the time of publication. A witness also reportedly gave The Daily Mail this heartbreaking account of the night:
I was there and he was on the table right next to us with a group of friends and some girl who he was obviously making out with all night ... They were holding each other and it was so obvious.
At least it sounds like nothing is going to keep KoKo and her daughter from heading back to L.A. where, let's face it, they totally belong right now. A source told Us Weekly, "Khloé's mom made it very clear to Tristan that it would be very unwise for him to make any moves to keep the baby in Cleveland."
And this, my friends, is why Kris Jenner will always be a total queen. Whatever happens down the road, it's comforting to know that Kardashian has her little girl to focus on, and a super-tight fam led by a badass matriarch who will always have her back.
Stay strong, mama!