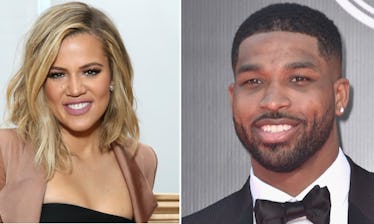 Tristan Thompson Is Reportedly "Remorseful" Over Claims He Cheated On Khloé Kardashian
Cindy Ord/Getty Images Entertainment/Getty Images, Alberto E. Rodriguez/Getty Images Entertainment/Getty Images
I gotta be honest — ever since the news first broke on April 10 that Tristan Thompson had reportedly cheated on Khloé Kardashian with another woman, I have just wanted the whole thing to go away. Because this is not the way this relationship was supposed to go down. After everything she went through with Lamar Odom, my girl KoKo was finally supposed to get her happy ending — the one with the faithful, loving man and the sweet baby daughter. But now we have Tristan Thompson's reported response to claims he cheated on Khloé Kardashian, and lemme just say that love is officially dead, and I am totally crushed.
According to a new report from Us Weekly on April 12, "Tristan is making no moves to try and prevent Khloé from leaving, and keeping their daughter in Cleveland ... He is incredibly remorseful for everything that has happened and doesn't want to cause Khloe any more pain." Elite Daily reached out to Thompson's team for confirmation of the report but did not hear back by the time of publication.
It's just all so devastating. So how did we get here? This is 2018 we're living in now, and every single thing a famous person does is basically just one camera phone away from being blasted on social media for the entire world to see. Which is why on Tuesday, April 10, The Daily Mail reported that Thompson was seen making out with a woman in a club in Manhattan. And yes, there was a video. If you're anything like me, you've spent hours watching this thing, trying to figure out what the hell was actually going on. There's the brunette woman. And there's Tristan, wearing a white hoodie with a black Supreme jacket on top. The woman has her arm flung around Thompson's shoulder, and it seems to me like she's leaning in for a kiss, but the hoodie blocks their faces so it's impossible to know WTF was happening. Elite Daily reached out to Kardashian and Thompson's teams for comment on the report but did not hear back by the time of publication.
Because all of this took place out in public in a New York City club, there were also witnesses, of course. One of them gave The Daily Mail this disheartening account of the night:
I was there and he was on the table right next to us with a group of friends and some girl who he was obviously making out with all night ... They were holding each other and it was so obvious.
Meanwhile, Kardashian's in Cleveland after just welcoming her daughter to the world in the early morning hours of April 12, which just makes this whole thing so much worse. Is it weird that despite all the mounting evidence, I'm still hoping someone made this whole thing up? I don't know about you guys, but as soon as I saw that second dude in a white hoodie theory floating around on Twitter, my heart lit up. I mean, it had to be that other guy in the white hoodie, right? Not Thompson. Because Thompson would never do that to Khloé, let alone be dumb enough to do it out in public.... right? Who knows. All fans can hope is for the best for Kardashian and her new baby girl.
What happens from here is going to be Kardashian's call, obviously. And because she's probably enjoying her first few hours as a mother, we probably won't know what the fallout will be for quite some time. I'm so glad that little baby girl is here to fill her mama's heart with love, help her rise above the negativity, and take her mind off this whole, sad mess. Stay strong, Khlo — your fans have you back no matter what you decide!