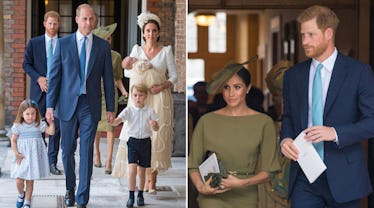 Will & Kate's Body Language At The Christening Compared To Harry & Meghan's Tells Us A Lot
Dominic Lipinski - WPA Pool/Getty Images
It's funny how siblings can simultaneously be so different and so similar. For example, my sister and I share the same DNA and the same face shape, but when it comes to pretty much everything else from common interests to taste in men, we literally could not be more different. And we're just regular people! Even famous royal siblings tend to be totally different, despite what people may think. For instance, Will and Kate's body language at the christening of their son, Prince Louis, proved their relationship is totally different than that of Will's brother, Prince Harry, and his wife, Meghan Markle.
I asked mind-body pattern shifter, Yana German, to check out some pictures of both Will and Kate and Meghan and Harry at Prince Louis' christening. Subsequently, we asked her to deduce, based on their body language in the images, how the relationships differed from each other.
First, she took a look at William and Kate. As far as German is concerned, these two tend to be the more typical royal couple. She describes them as "stern" and explains that they both closely follow the royal protocol. "They have more of a distance when they're in public," she explains. "I'm sure when they're by themselves, they're more comfortable with each other than what it shows towards the public but, when it comes to the public, they're more reserved." She notes that you can see this reservation in the way Kate walks and the way she holds her shoulders.
On the flip side, German explains that "Meghan and Harry are so much more into each other. They're more comfortable. They're more relaxed." But that doesn't necessarily mean our girl, Meghan, is totally comfortable in her new role as the Duchess of Sussex. "At the same time, Meghan is still trying to find a position of where she fits in," says German. "So she's in more of a crouched stance where she's trying to figure out what the proper way is for her body to act."
"There's a lot of pressure and you can see in her body language that she's a newcomer right now with the royal family," she explains. "But they're definitely showing each other much more affection. That's without a doubt. They like to be closer, they're trying to mix and match. Harry, he's definitely a supporter and he's definitely kind of like a bodyguard for Meghan and, if you can tell, he's trying to guard her, he's trying to be that lion protecting her and guiding her through a zone that might be completely uncomfortable for her."
In general, German concludes that Meghan and Kate handle their royal roles very differently. "Kate, she has more of a stern, regal, prepping-to-be-queen type of demeanor," she explains. "She already understands what the next step for her husband is. Whereas Meghan is just a girl who's in love and she's so happy to be in love. She's still merging into this whole different lifestyle. So she's testing the water where she's at, but it's beautiful to see how Harry protects her."
Beautiful, just beautiful. Now, odds are most of us aren't going into one of the most widely known royal families in the Western world (sorry) but, even if we don't, here's to hoping that we each find ourselves a life partner who's willing to support us and protect us as fiercely as Harry supports and protects Meghan. Also, a spouse who understands your role in life and fully supports it like Kate understands and supports William wouldn't be so bad either. Just saying.
This article was originally published on