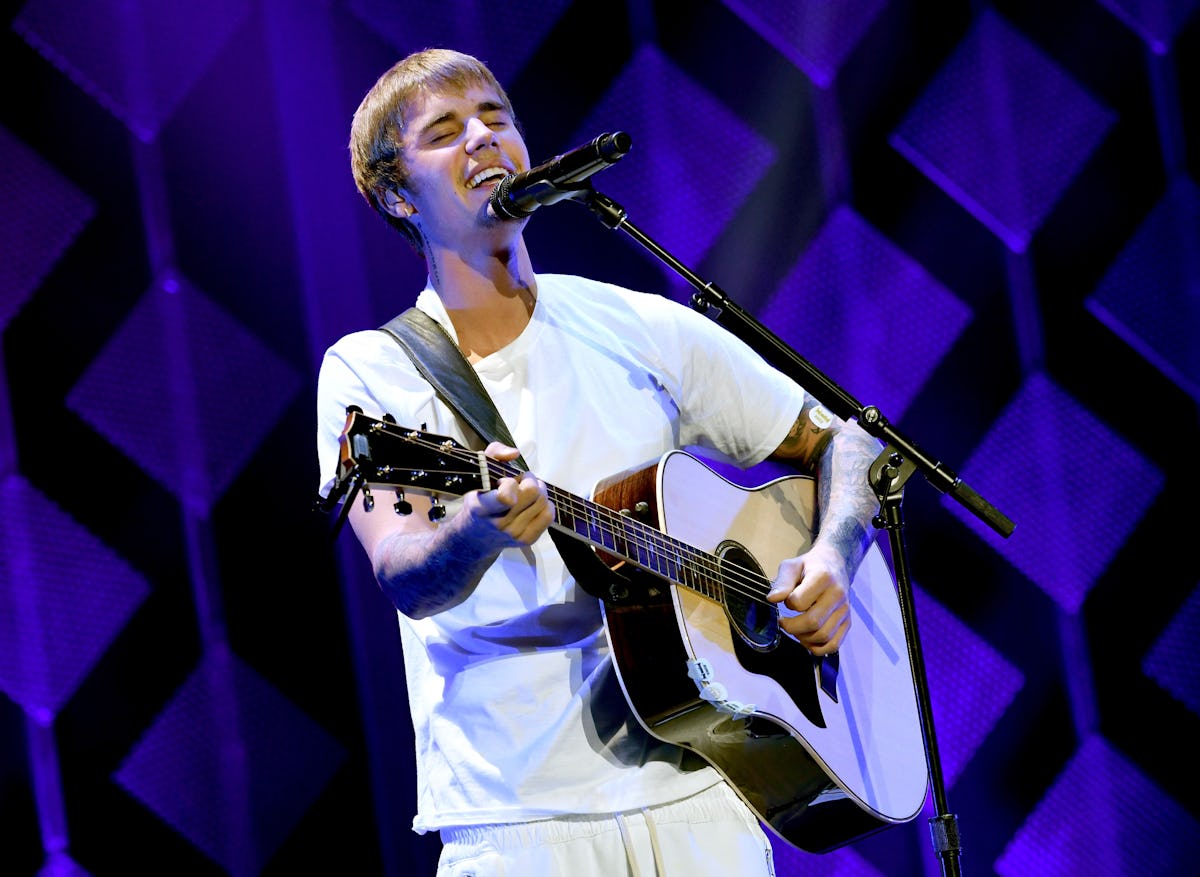 Fans Think Justin Bieber Is Going To Propose To Selena Gomez Because Of This Video
Kevin Winter/Getty Images Entertainment/Getty Images
We all know Selena Gomez and Justin Bieber are back together, and it's truly been rocking our worlds. The two have rekindled their love after Gomez's sudden end to her relationship with The Weeknd, and things have been quickly and publicly heating back up with The Biebs. Thanks to a new video, fans are wondering, "Wait a second, will Justin Bieber propose to Selena Gomez?"
Elite Daily reached out to both Gomez's and Bieber's team for comment, but did not hear back by the time of publication.
I know. It somehow feels like a totally possible scenario and also like the world's largest stretch at the same time. Bieber famously has been taking time to work on himself and his mental health, and Gomez has kind of been doing the same. Sources claim that thanks to both of their individual journeys, they have a lot to catch up on and are both in better, healthier places.
A friend of Bieber's told Elle magazine,
He [Justin] has changed a lot in the past few months. He is a very different person. They [Selena and Justin] have a lot to talk about and are having fun catching up.
Catching up... or getting engaged? Fans think that a ring might be in their future thanks to this specific video caught by TMZ. In it, paparazzi ask Bieber if he is going to propose to Gomez, and his response is SUPER coy.
He doesn't say yes, but he definitely doesn't say no. Instead, he just smiles.
What do YOU guys think this video means?
My guess is we're just looking at Bieber messing with people, but who knows with him.
For her part, Gomez is making a conscious effort to listen to herself more and other people's opinions less. If that means getting back with Bieber, we can all just take our opinions and go F ourselves.
She told Billboard magazine in her Woman Of The Year interview,
You know, I have to be very careful with what opinions I listen to. And society teaches you to honor and respect the people around you. But loyalty and honesty can mean something completely separate. And I think altering or editing myself for the sake of others has been something that I have done my whole life. I've had to accept where I am. It took me about five years and moments where I needed to step away and be alone and fight those fights on my own, or go away to a place where I could focus on that. And that time for me was so painful and really hard and very lonely. But I really, really felt that that's what helped me feel satisfied with where I am.
And that's with Justin Bieber.
The two seem to have fallen into a semi-routine, hanging out at church, riding their bikes and kissing at Bieber's hockey games. In fact, the kiss confirming they were back together was caught on camera when Gomez leaned over the hockey rink wall to smooch Biebs on the ice.
It was, like, a whole moment.
According to an insider who spoke with US Weekly, Gomez just can't shake this guy. The source said,
... She [Selena] can't deny that she still loves Justin. He had such a big piece of her heart and was such a huge part of her life for so long. She can't just let him go.
If wedding bells are in the future, something tells me we'll know about it soon enough.
Check out the entire Gen Why series and other videos on Facebook and the Bustle app across Apple TV, Roku, and Amazon Fire TV.