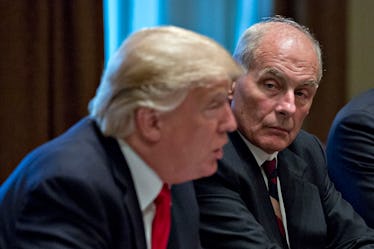 John Kelly Denies Quitting Rumors, But Not Very Convincingly
Pool/Getty Images News/Getty Images
After weeks of rumors about unrest in West Wing, those who were wondering is John Kelly quitting finally got an answer. Kelly made an unusual appearance at the White House press briefing on Oct. 12, when he denied reports that he wanted to leave the administration. But, some might say he wasn't very convincing.
"I don't think I'm being fired today and I am not so frustrated in this job that I'm thinking of leaving," Kelly said, prompting laughs from the room.
Since Kelly became chief of staff in July, many outlets have reported that he's become frustrated with Trump's colorful language, both on and off Twitter, and has attempted to manage the flow of information to the president. The pair has reportedly engaged in "shouting matches" because Trump does not want to be so closely managed, according to The Los Angeles Times.
Managing Trump's Twitter habit is no small feat. Over the course of just a few days, the president became locked in a war of words with Sen. Bob Corker (R-Tenn.), who he called "Liddle' Bob Corker," and lashed out at NBC News over a story that Secretary of State Rex Tillerson reportedly called him a "moron" after a "tense" meeting at the Pentagon.
At the briefing, Kelly struck a middle-of-the-road tone with the press, adding that he meant "no disrespect" to the journalists in the room. He did, however, voice frustration over reading reports of discord between him and POTUS. "I come to work in the morning and I read about things that I allegedly said or think that Mr. Trump allegedly said or people who are going to be fired and it's just not true," he said.
Since Trump took office, the White House has had a revolving door problem.
Kelly, a retired four star general and the former Homeland Security secretary, replaced former Republican National Committee Chairman Reince Priebus in the job. Priebus served as Trump's chief of staff for six months. During his short tenure, Priebus was perceived as struggling to gain the respect and backing of the president. Enter Kelly, who was confirmed to his Cabinet position by an 88-11 vote and respected across party lines.
On his first day on the job, Kelly fired Anthony Scaramucci, who lasted only 10 days as communications secretary. During that time, "The Mooch" gave an interview with The New Yorker where he suggested that Trump's former strategist Stephen Bannon wanted to "suck his own c**k." Scaramucci's brief stint began the resignation of Sean Spicer, who navigated his own controversies while serving a press secretary.
Bannon, of course, later left the White House in August after the president said "both sides" — white supremacists and left-leaning protestors — had contributed equally to violence at a rally in Charlottesville. Bannon was seen as having ties to white nationalist groups from his time at the helm of the so-called "alt-right" website Breitbart, which he has since returned to. Many called for Bannon's removal because of his troubling views and connections to the site, though there were reports that he was set to leave earlier.
And earlier this month, Tillerson faced his own rumors that he was considering stepping down from his position as Secretary of State. Trump's tweets about international affairs, such as calling North Korean leader Kim Jong-un "Rocket Man," are have been said to undermine the Secretary of State's negotiating power by countering his own statements. In fact, an official told BuzzFeed that Tillerson, Defense Secretary James Mattis, and Treasury Secretary Steven Mnuchin had formed a "suicide pact" where all would quit if the president targeted any one of them.
At the briefing, Kelly said his time at the White House hasn't been his "best" job — that was when he was enlisted as a Marine sergeant infantryman. But, rather, he did say that it was the most significant. "I will tell you, this is the hardest job I've ever had...This is, in my view, the most important job I've ever had," he said.
While in a different time, the White House chief of staff showing up at the podium to say "I don't think I'm being fired today" would have been an Onion headline, today in the Trump administration is just called "Thursday."