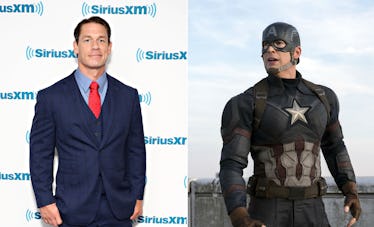 Marvel Fans Think They Know Who Will Replace Chris Evans As Captain America
Cindy Ord/Getty Images, Marvel
By now, every Marvel fan is pretty sure that next summer's Avengers 4 will be Chris Evans' last stand as Captain America, but although Evans may be out, that does not mean Captain America will be gone from future Marvel movies. Fans have been trying to work out who might pick up Cap's iconic shield after Chris Evans, and a surprising new actor just posted something that has everyone wondering. Will John Cena become Captain America after Avengers 4? The pro wrestler's latest Instagram post is sparking some major Marvel theories that nobody could have seen coming.
There has been a ton of talk about Chris Evans likely departing from the Marvel Cinematic Universe after next summer's Avengers 4 for a long time now. Earlier this year, Evans revealed that his contract with Marvel is up after Avengers 4, and last month, he seemed to show his hand by tweeting an emotional goodbye to Captain America after wrapping filming on next year's movie. Because of this, the prevailing fan theory is that Steve Rogers will die in Avengers 4, but even if that turns out to be true, it does not mean that Captain America will be completely gone.
Many Marvel fans believe that another character will pick up Steve Rogers' shield to become a new Captain America. The prime theories so far have been that either Sam Wilson (Falcon) or Bucky Barnes (The Winter Soldier) would become Captain America, since they are Rogers' closest friends. But a new Instagram post has people wondering whether a total newcomer may appear in the Marvel Cinematic Universe to become the new Cap.
On Sunday afternoon, John Cena crpytically posted a photo of Captain America's shield with no caption. And since Marvel fans have been wondering about the future of Cap for a while now, the post got people wondering whether Cena would be hinting at taking over Chris Evans' role.
Obviously, one cryptic post is not much to go off of, but there is a possibility that John Cena could hop into the Marvel Cinematic Universe to take over as Captain America. There is a comic-book precedent for how Cena could take over the role as well.
Some fans are guessing that if John Cena is going to join the Marvel universe, he could play John Walker. Walker is a Marvel hero who actually served as a replacement Captain America for a while, and then switched monikers to become U.S. Agent. If Cena had been cast as John Walker, then the Captain America shield post would make sense as a hint, plus Cena actually kind of looks like John Walker.
Although John Cena is best known as a WWE wrestler, he has been focusing on his acting career in recent years. He stole scenes in blockbuster comedies like Trainwreck, Sisters, and Blockers, as well as jumping into sci-fi action in Bumblebee.
Obviously, John Cena's casting is all just speculation right now. We will have to wait until Avengers 4 premieres on May 3, 2019 to see if he makes a surprise appearance.