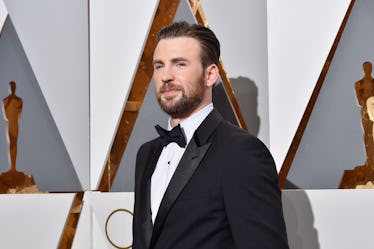 Chris Evans Might Be Done With Marvel For Good & I'm Sobbing
Kevork Djansezian/Getty Images Entertainment/Getty Images
For the most part, being an actor for Marvel Studios seems like a sweet deal. You get to live out every child's fantasy of being a superhero while working with essentially the same group of actors over the course of many years. That being said, the movies' physical demands and time commitments are definitely a lot, and such requirements can take a toll on an actor and persuade him to step away from the franchise. For Chris Evans, the time to hang up Captain America's shield after nearly seven years of portraying the character may be near. Fueling speculation of a major change for Captain America in future films, is Chris Evans retiring from Marvel?
In a New York Times interview, Evans hinted that he has no plans to appear in any Marvel films after this April's Avengers: Infinity War and its 2019 sequel. Suggesting that movie reshoots in the fall will be his last time portraying Captain America, Evans told the Times:
You want to get off the train before they push you off.
For fans of the franchise, Evans' tease is only drawing out what was already assumed about his role in the films. As heartbreaking as the idea of his departure is, Evans has been extremely vocal about his contract with Marvel ending after the Infinity War sequel. In 2017, he told USA Today what he'd think of another actor possibly playing Cap:
I'd be lying if I said it wouldn't be hard for me. But the passing of time and the passing of torches is part of the experience. Nothing lasts forever. There's a beauty in that departure, even if it can be sad at times. It's also joyful. I've had a great run. Superheroes are reinventable entities, like Batman or even James Bond. These movies find new incarnations and new ways to tell the story. I am all for it.
Rumors of Evans' Avengers co-star Robert Downey Jr. leaving the franchise have also circulated in the past year. While Evans' possible exit seems to credit him simply feeling like it's time to go, it seems that Downey isn't a fan of churning out countless Avengers films and possibly spoiling what initially made the series so fun. He told news.com.au,
Everyone says to me it's like a glove that fits so well. I have to start over every time but I am starting over with a pretty solid base. I just never want to blow it for the last six or seven [MCU movies] I have done by dropping the ball because I decided to go do it one more time. I just want to hang up my jersey before it's embarrassing.
Ironically, upon the release of the official Infinity War trailer last week, fans wondered if Captain America and Downey's Iron Man were both at risk of dying in the upcoming superhero mashup. In the trailer, both characters seem to have individual face-offs with villain Thanos, which has bumped up viewers' worries that one or both of the men could soon meet their demise.
As Esquire points out, both Downey and Chris Hemsworth's contracts are also up after the next pair of Avengers films, throwing Thor into the mix of endangered characters. But, perhaps because he's been so honest about leaving the franchise, Evans is still at the center of fan theories about which character is in trouble. If a horrifying death is in store for Captain America/Steve Rogers, I'll need to get my tissues ready.
While Steve Rogers may not return in new Marvel films, the superhero identity of Captain America could still carry on. Fans believe that either Bucky Barnes or Falcon could become the new Cap, which would definitely skyrocket actors Sebastian Stan or Anthony Mackie to new levels of fame.
Avengers: Infinity War hits theaters on April 27, 2018. Fingers crossed that Captain America will get through it relatively unscathed!