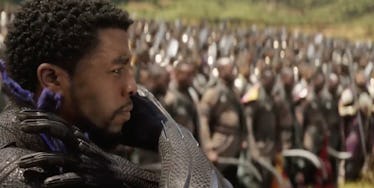 The First 'Avengers: Infinity War' Full Trailer Is Here & It Looks As Epic As You'd Expect
Walt Disney Pictures/YouTube
Gang's all here! The Avengers: Infinity War trailer is here and, man — it's everything we ever wanted and more. Buckle your seat belts, because your fave Marvel heroes are coming together for one epic action adventure. "The entire time I knew him, he only ever had one goal. To wipe out half the universe. If he gets all the Infinity Stones he can do it with the snap of his fingers. Just like that," the clip ominously kicks off with Gamora's (Zoe Saldana) warning. "Tell me his name again..." Iron Man asks. Welp, it sounds like the big bad Thanos is coming to majorly shake things up. Dun. Dun. Dun.
And there you have it. Josh Brolin's villain may not need an intro at this point, but he's getting one anyway. The character is trying to destroy the world, after all. Fortunately, the Avengers are here to save the day, right? And while the OGs — Iron Man (Robert Downey Jr.), Hulk (Mark Ruffalo), Captain America (Chris Evans), Black Widow (Scarlett Johansson), Thor (Chris Hemsworth), and Hawkeye (Jeremy Renner) — are back from more butt-kicking, the star-studded cast is expanding before our very eyes. As the Marvel Cinematic Universe continues to grow, the more superheroes we get to see on screen. We're so ready.
What an impressive team, indeed. Get excited — because this next chapter will include Tom Holland's Spider-Man, Chadwick Boseman's Black Panther, and Tessa Thompson's Valkyrie. We even get a glimpse of Letitia Wright's Shuri, one of the breakout stars of Black Panther. And Bradley Cooper's Rocket, Vin Diesel's Groot, Benedict Cumberbatch's Doctor Strange, and Elizabeth Olsen as the Scarlet Witch. Shall we go on? It's like a veritable who's who of the MCU!
Of course, Chris Pratt's Star-Lord is already cracking jokes while trying to hatch a plan to defeat the evil forces that be. "Let's talk about this plan of yours. I think it's good, except it sucks. So let me do the plan, so that way it might be really good," he tells his colleagues as they roll their eyes. Oh, Peter Quill! You get us every time.
"An unprecedented cinematic journey ten years in the making and spanning the entire Marvel Cinematic Universe, Marvel Studios' Avengers: Infinity War brings to the screen the ultimate, deadliest showdown of all time," reads the synopsis for the highly anticipated installment. "The Avengers and their super hero allies must willing to sacrifice it all in an attempt to defeat the power of Thanos before his blitz of devastation and ruin puts an end to the universe."
But just because it's the "deadliest showdown of all time" doesn't mean there's no time for fun. This is Marvel, after all. "I'm Peter, by the way," Tom Holland adorably introduces himself to Benedict Cumberbatch at the end of the recently-released trailer. "Doctor Strange," he responds. "Oh, we're using our made-up names. Then I am Spider-Man," the man also known as Peter Parker quips. We appreciate how humorously self-aware some of these superheroes actually are.
With the record-breaking success of last month's Black Panther, naturally viewers are pumped to see Boseman's T'Challa in all his courageous glory so soon.
"From Black Panther, you are going into the world of Wakanda," Boseman told Entertainment Tonight of Wakanda's influence on Infinity War. "They are more technologically advanced than any other nation on the planet. You are seeing some gadgets and some technology and merger of those things with spirituality in a way that you didn't see in Civil War, but that is because you are coming into their space. Now you get the opportunity to see it."
"I definitely geeked out a little when I was standing with them all," Danai Gurira, who plays Okoye, revealed of joining forces with the Avengers.
We can't wait to watch as all our legendary MCU faves come together for this colossal cinematic event. Avengers: Infinity War hits theaters April 27.