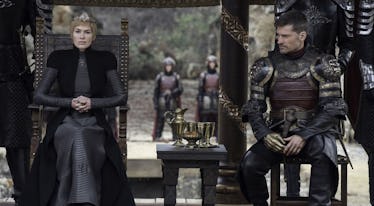 A New 'GOT' Season 8 Leak Confirms That This Character Will Be In Every Episode
HBO
The final season of Game of Thrones is one of the most tightly kept secrets in all of entertainment right now, but even HBO cannot protect all of the grand finale's details from a court of law. Due to an ongoing lawsuit between Game of Thrones star Nikolaj Coster-Waldau and his former manager, we now officially know how many episodes of the upcoming season he will appear in. Of course, this is a huge help in answering the pressing question, will Jaime Lannister die in Game of Thrones Season 8?
This new information comes courtesy of an ongoing lawsuit between Nikolaj Coster-Waldau and his former manager Jill Littman. The suit is focused on Coster-Waldau's earnings on Game of Thrones, but in the process of determining that, the newly-released court documents also confirm exactly how many episodes of Game of Thrones Season 8 Coster-Waldau will appear in. The documents confirm that Coster-Waldau is in all six of the Season 8 episodes, which is a shift up from previous rumors that he would only be in four of the six episodes.
So, what does this mean for Game of Thrones fans? Well, we still do not have enough information to know whether Jaime Lannister will end up alive or dead when Game of Thrones makes its final bow, but it sure sounds like he is at least going to make it to the last episode. Then again, this is Game of Thrones we are talking about, so just because we know that Nikolaj Coster-Waldau will be in every episode of the final season does not exactly mean that he will be alive in them. There's always the possibility of flashbacks, memories, or heck, even straight-up magic or White Walker zombification.
But most likely, fans can expect to see Jaime Lannister alive and well into the series finale — from there, it is anyone's guess who will survive... if anyone!
Nikolaj Coster-Waldau seemed to confirm that Jaime Lannister (along with his siblings, Cersei and Tyrion) would survive to the bitter end of Game of Thrones Season 8 in a recent interview with Huffington Post. Coster-Waldau said that he was expecting to see Jaime killed off with each new script, but was shocked to find all the Lannister make it to the series finale:
It was a surprise. God, every time we got a new script I thought, 'OK, this is probably going to be the one.' But no. The Lannister kids made it to the end.
And that is probably the most revealing spoiler Game of Thrones fans can expect to get about the mysterious eighth and final season. The more pressing mystery is when the final season will premiere. Although the cast wrapped filming a couple months ago, we still have a good chunk of time to wait before the final season airs. HBO has yet to announce the official premiere date, but thanks to a few hints from network officials and the Game of Thrones crew, our best guess is that Game of Thrones Season 8 will premiere sometime in late May 2019.