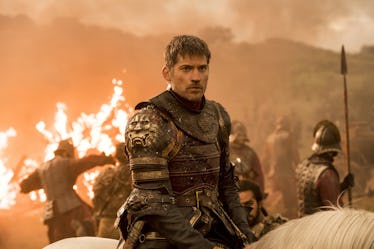 The Actor Who Plays Jaime Lannister In 'GOT' May Have Given Us A Clue About His Fate
HBO
Game of Thrones Season 8 is still months away from debuting on HBO. But with Emmys just around the corner for 2017's Season 7, the actors, especially those nominated in the supporting categories, are starting to come out in force to remind voters of their work last summer. This includes first-time nominee Nikolaj Coster-Waldau, who is nominated for his role of Jaime Lannister. But what fans really care about are any details he'll share from the last episodes. Naturally, Nikolaj Coster-Waldau's clue about Game of Thrones Season 8 and what might lie ahead for his character in the final installments has everyone in a tizzy.
The character of Jaime Lannister has slowly morphed over the course of seven years. When viewers first met him in Season 1, they saw him through the eyes of the Stark family, an arrogant monster who thought nothing of throwing a 10-year-old boy to his death.
But slowly, Jaime has revealed himself to have a curious, if twisted, loyalty to him. He genuinely loves his sister Cersei, in the most unhealthy of ways. This misguided North Star of his has caused him to make terrible life choices. But finally, at the end of last year, the scales fell away from his eyes and he saw Cersei clearly for the person she was for the first time maybe ever.
So he broke his own heart and walked away.
But while some have wondered how well it will go when Jaime reaches Winterfell and Bran sees the man who crippled him for the first time, Coster-Waldau isn't so sure his character even get that far. Speaking to Huffington Post, he said:
I don't think you can assume that he's going to make it up there, but who knows. For sure, we see him head north. He might be eaten by dragons, you never know. Or he might just stumble, things happen. Or he might find the love of his life and suddenly he's like, 'God, this is it. No more.'
Coster-Waldau brings this up for a reason, though, when pressed, he wouldn't elaborate further. Though Jaime has been faithful to Cersei this whole time, fans believe he has already met the real love of his life, a woman who saw right through him and respected him anyway: Brienne of Tarth.
Now, the realistic among the fandom know the chances of Brienne and Jaime actually getting together is probably nil. There are happy endings like this in fantasy, but none of them happen in Westeros. If they do, they wind up getting everyone killed the next day, or at the next wedding, whichever comes first.
But whatever does happen to Jaime, Coster-Waldau says the end of the series surprised him in how satisfying it felt.
To me, it was very satisfying but also very surprising and all the things that I was hoping for. It made sense.
Viewers hope the feeling will be mutual. Game of Thrones Season 8 arrives on HBO sometime in 2019, probably around May.