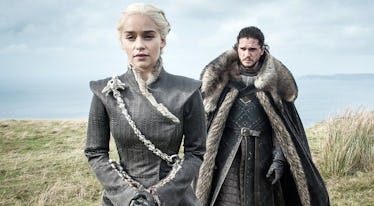 'Game Of Thrones' Season 8 Will Be Released Even Later Than We Thought
HBO
Game of Thrones fans are going to have to wait a little while longer until winter finally comes to Westeros. Although we were all expecting the eighth and final season of HBO's high-fantasy epic to premiere sometime at the beginning of 2019, now it sounds like the Game of Thrones Season 8 premiere date has been pushed back. So I guess we will just have to keep waiting for a few more months to finally see who ends up on the Iron Throne.
Earlier this year, HBO executives said that the final season of Game of Thrones will premiere in the first half of 2019, and Maisie Williams got a little more specific by teasing it may drop around April of 2019. But although Season 8 filming has already wrapped, the visual effects department is going to need a lot of extra time to get all those dragons and White Walkers looking just ferocious enough for the last season. According to the show's visual effects supervisor Joe Bauer in an interview with The Huffington Post, the Game of Thrones VFX team is scheduled to continue working on the final season throughout May of 2019:
In two years we'll be eligible for the Season 8 work, which we're just beginning now ... We're going to be toiling away on season 8 until May of 2019, so it's eight or nine months away.
According to Joe Bauer, Game of Thrones Season 8 will not be eligible for the 2019 Emmy Awards, which means that the bulk of the final season will air after May 31, 2019, which is the eligibility deadline for the 2019 Emmys. Of course, May 31 is also the last day of the first half of 2019, which seems to mean that the final season will mostly air in the second half of the year. After The Huffington Post published Joe Bauer's statements, HBO reconfirmed its statement that the new season would be debuting within the first half of 2019.
What seems most likely with this new information is that the six-episode final season of Game of Thrones will premiere sometime in mid- to late May of 2019, in keeping with HBO's confirmation that the season will premiere in the first half of 2019, but that most of the episodes of the season will run throughout June and July of 2019, making them eligible for the 2020 Emmy Awards, as Joe Bauer has stated. So actually, we now have our best estimate yet for an exact Game of Thrones Season 8 premiere date: If both HBO's and Joe Bauer's statements are correct, then fans can expect the final season of Game of Thrones to premiere on either Sunday, May 19, 2019 or on Sunday, May 26, 2019.
So although this initially sounded like terrible news for Game of Thrones fans, it is actually giving us the best idea yet of what day we can mark our calendars for the last hoorah of Game of Thrones. Get ready to plan your Game of Thrones premiere parties for either May 19, 2019 or May 26, 2019, because those look like the prime premiere day options right now.