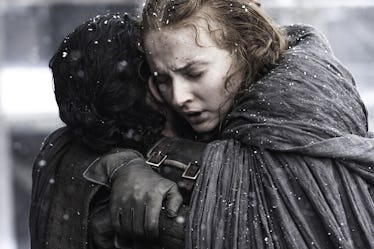 'Game Of Thrones' Season 8 Finishes Filming Sooner Than You Think, So Start Grieving Now
HBO
Game of Thrones Season 8 is scheduled to run on HBO in 2019. There is no start date as of yet, but as of Sunday, July 1, the new year is officially six months away. This means filming for Season 8 must be nearly done. Most of the actors have finished their work on the final season, including Emilia Clarke. With the ending of the filming portion of the production coming to a close, the official wrap party has been scheduled to be held in Belfast this coming weekend. This means Game Of Thrones Season 8 finishes filming anytime now.
As the superfans might be aware, this is actually one of several major cast parties being held to mark the end of an era. At the beginning of June, there was a giant party where quite a few old faces turned up, including Sean Bean and Jason Momoa. This past weekend, there was another party of sorts, as Game of Thrones successful staged their first wedding without killing anyone when Kit Harington and Rose Leslie got married. (Let's call it Game of Thrones' White Wedding.)
Wrap parties are usually held a few days or sometimes a week or two before filming ends on a show, due to the vagaries of scheduling. Some reported the party back at the beginning of the month as the "Official" wrap party, but apparently, it wasn't official enough. This one, being held on Saturday, June 30, will be the Official-Official Wrap Party.
According to fan site Watchers on the Wall:
According to our sources, the true final wrap party will be on June 30 in Belfast, with all former cast members included.
All former cast members is a heck of a lot of people. Consider, by the numbers, the show has killed off 71.6 percent of named characters in the show. There's even a video where someone did a compilation of every single on-screen death. If one counts the characters without names, the answer is 174,373 characters who have died and counting.
Now, chances are every single one of those characters isn't going to be invited to this ultimate wrap party, because HBO has money to burn when it comes to Game of Thrones, but it doesn't have 175k guest list money.
Most likely, it means everyone from Season 1 through Season 7 who were named characters on screen got an invite though. That's 150 people, and still a huge party. It also suggests, if the show is doing everything it can to make this an "official" event and get everyone possible to attend, fans might be lucky enough to be treated to a class picture. Think something on par with Marvel's 10-year anniversary class photo. Maybe there will even be a video, celebrating the end of one of the most remarkable eras in HBO's history, when a fantasy show about dragons was their biggest hit.
By the way, like the one earlier, this won't mark the full end of filming. The word is they'll be working into the first week of July or so. (Currently, leaked images suggest King's Landing is going to have a tough time of things before the show is all over.)
But with the announcement this is the "Official Wrap Party," it's a sign Game of Thrones is almost all done, except for the months of post-production CGI. But do not mourn the passing of the show. Instead, pour one out for the last ten years, and drink to the health and continued careers of everyone involved.
Game of Thrones' final season will turn up on HBO at some point once 2019 arrives.