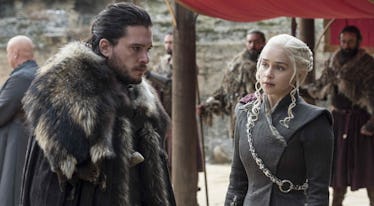 HBO Just Confirmed When 'Game Of Thrones' Season 8 Will Premiere & It's Not Soon Enough
HBO
The final chapter of the Game of Thrones saga is on its way! Fan have been awaiting news of a Season 8 premiere date for a year now, and HBO has finally revealed more details. Game of Thrones Season 8 will premiere in early 2019, according to HBO's president. That means we will not have to wait too long after the new year to get back to Westeros for Game of Thrones' epic conclusion.
Before now, all that fans knew about the eighth and final season of Game of Thrones was that it was coming sometime in 2019. We still do not have a specific premiere date for the new season, but things are starting to narrow down now. During the TCA Summer Press Tour on Wednesday, HBO president Casey Bloys confirmed that Season 8 of Game of Thrones will air during the first half of 2019. This update might actually help us to pinpoint an even more exact premiere date by looking back at when previous seasons premiered. Seasons 1 through 6 of Game of Thrones all premiered in April (or on the last day of March), with Season 7 being the only outlier, premiering in mid-July. If Game of Thrones is returning to its scheduling roots, then Season 8 could be premiering sometime in April of 2019.
Season 8 of Game of Thrones will consist of only six episodes, but each episode is expected to be around an hour-and-a-half in length, longer than any past episode. The final season has been in production since last fall, and recently concluded its filming process earlier this month. The run of episodes will pick up where Season 7 left off when its finale aired in August of 2017, which included numerous cliffhangers. [Spoiler alert] The finale saw Jon Snow and Daenerys Targaryen enter into a sexual relationship with one another, Arya and Sansa Stark proving their loyalty to one another by executing Littlefinger, and Bran Stark coming to the realization that Jon Snow is actually Aegon Targaryen, the rightful heir to the Iron Throne. But of course, the biggest moment of all came when the Night King broke down the Wall with his newly undead dragon Viserion, leading his army of White Walkers into Westeros.
Oh, and the Season 8 premiere date news was not the only exciting Game of Thrones bombshell that HBO president Casey Bloys just dropped on us. He also revealed that the Game of Thrones spinoff series will begin production in early 2019 as well, although production has yet to hire a director or casting director at this time. The greenlit prequel series comes from Kingsman and X-Men writer Jane Goldman, and it will be set during the ancient Age of Heroes, an era in Westerosi lore when the the warring houses were first founded. Goldman's Game of Thrones spinoff is the only one that HBO has greenlit of the five that it ordered last year — it's unclear whether the network will move forward with more spinoffs or stick with just one at this point.
Expect to see Game of Thrones flying back to your TV screens in early 2019.