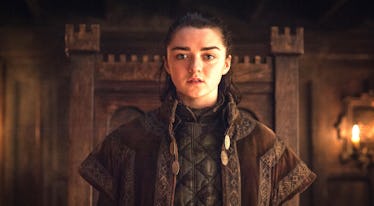 Maisie Williams Said Goodbye To 'Game Of Thrones' In The Most Arya Stark Way Possible
HBO
Winter is finally coming on Game of Thrones, and now all that is left to do on the final season of the hit fantasy series is wait for it to air. The cast has recently concluded production on the show's eighth and final season, and Maisie Williams' Instagram about finishing Game of Thrones filming is giving fans a glimpse at all the blood coming our way next year.
Game of Thrones fans are obviously pumped to see what happens to everyone in Westeros when the series airs its final six episodes next year, but one of the most highly anticipated character arcs is Arya Stark. The series has been teasing and slowly doling out Arya's revenge plot for several seasons now, as she memorized a list of names that she is dead-set on killing and has mastered her abilities as a face-changing assassin.
In last summer's Season 7 finale, Arya finally reunited with her sister Sansa and her brother Bran in Winterfell, learning that Sansa has risen the ranks to become the Lady of Winterfell and Bran gained the psychic abilities of the Three-Eyed Raven. Though Littlefinger tried to turn the reunited Stark siblings against one another, they stuck together, with Sansa sentencing Littlefinger to death at Arya's blade. When last we saw Arya, she was proving that her bond with Sansa is stronger than ever, as the sisters made plans to continue working together to get their revenge on the Lannisters.
Well, Arya is definitely going to get her hands (and feet) dirty in Season 8. Maisie Williams shared a photo of her shoes covered in dried blood, along with a message denoting that she had concluded her work on Game of Thrones:
goodbye belfast. goodbye arya. goodbye game of thrones. what a joy i've had. here's to the adventures to come #lastwomanstanding #barely #immasleepforthenextfouryears #justkiddingidontsleep
That "last woman standing" hashtag is causing quite a stir among fans, though. Almost immediately, Game of Thrones began to wonder is Maisie Williams was saying that Arya Stark ends Season 8 as the only living main character remaining, and ascends to the Iron Throne herself. Honestly, I would be all for that, but that definitely does not seem to be the case here.
More likely, the "last woman standing" hashtag suggests that Maisie Williams was the final actor to conclude filming for the new season, meaning that principal photography for Game of Thrones Season 8 is now officially completed. While that's a big step, it doesn't mean that the new season is going to air any sooner. The production team still has a ton of work to do with editing and adding in CGI effects... which are obviously a massive part of the show.
It should come as no real surprise that Maisie Williams' scenes in Season 8 will involve a ton of blood, as this new photo seems to confirm. Recently, Sophie Turner teased that Season 8 is "going to be bloodier and more death and more emotionally torturous than all the years before." It looks like Arya Stark is going to be making a bigger dent in her list than ever before in the final season. The other, more grim possibility is that the blood on Williams' shoes is Arya's, and the youngest Stark sister will meet her end in the upcoming season. We will just have to hope that is Lannister blood on her shoes and not Stark blood.
As of right now, HBO has not announced an official premiere date for Season 8 of Game of Thrones, but it is confirmed to begin airing sometime in 2019. The new season will be the show's last, and consist of six episodes.