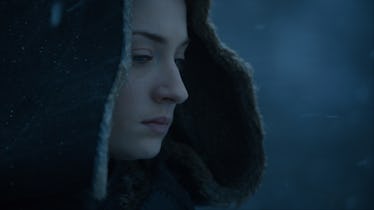 Sophie Turner Says 'GOT' Season 8 Will Be "Emotionally Torturous," So That's Great
HBO
Game of Thrones Season 8 filming is all but over, which means it's now the time of year where Game of Thrones actor interviews become the only source of new information. Luckily, with the Emmy nominations right around the corner, most of the cast is out on the promotional circuit. This season it's extra important, as Season 7, which is up for nominations on July 12, will be marking the one year anniversary since it's premiere. That's why Sophie Turner, who plays Sansa Stark, is out talking about Game Of Thrones Season 8 deaths along with other interesting tidbits about the coming final season.
Turner spoke to GoldDerby, one of the leading prognosticators dedicated to crunching the odds on Emmys, Golden Globes, Oscars, and more. As they revealed back in April, she is one of three actresses from the show in the Supporting Actress category who HBO submitted as part of their overall nominations slate. (Maisie Williams, who plays her sister Arya Stark and Lena Headey who plays Stark nemesis Cersei Lannister were the other two.) They are joined by Nikolaj Coster-Waldau and Peter Dinklage in the Supporting Actor category as well as Kit Harington and Emilia Clarke in the Lead Actor and Actresses category, as well as Diana Rigg for Guest Actress for her final turn as Lady Olenna.
Speaking via chat, Turner talked up Sansa's transformation last year:
I always saw something of a warrior in Sansa that I don't think other people really saw. I always had the feeling that she was learning and adapting and at some point or another it was going to manifest itself somehow, and she manifested it into being a warrior. It felt really satisfying when it happened, and I'm really happy where this storyline for her has ended up.
But while fans are excited and hopeful to see Turner finally land a nod in the Supporting category for her character (she's been snubbed every year she's been submitted so far), the real interest is what's coming up in Season 8.
I can tell you that there's definitely a coming together of people. Everyone is coming together to fight the impending doom. There's a lot of tension between these little groups, battling for what they think is right.
But despite Game of Thrones working hard to cut down to the core cast over the last two seasons, Turner's real revelation is the deaths haven't even really started. Season 7's had a lack of murder and mayhem on lead characters, turns out they were saving them to take out next year.
It's 'Game of Thrones,' so it's going to be bloodier and more death and more emotionally torturous than all the years before!
Could Sansa be one of those deaths? Rumors abound Winterfell will be attacked this coming season, which could spell doom to the Lady of Winterfell who believes she needs to be the proverbial Stark who is always inside the walls for its protection. But other hearsay suggests she could travel all the way to King's Landing this season for a final summit among the different factions, so perhaps she will be lucky and not be home when the Night King comes calling.
Whether or not Sansa survives, Turner believes there will still be strong women in Westeros, with or without her character.
We have really powerful women on this show, all in their own right and in their own ways. They all emulate different strengths and the different ways that women can be strong, and that's one thing I really love about this show. They've not all risen to power in the same ways.
Game of Thrones' final season will turn up eventually on HBO sometime in 2019.