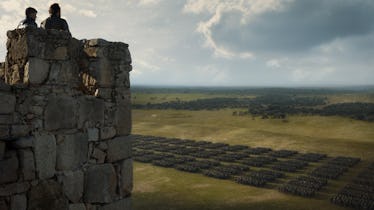 This 'GOT' Actor Was Just Spotted Near Season 8 Filming & I Am SCREAMING
HBO
Game of Thrones Season 8 has been filming now for over six months, and rumors have been flying from the on-location sets as to what might be going down in the final six episodes. But after months of working mainly in Northern Ireland, the production looks to be moving bag and baggage to Spain and other locations where they filmed key scenes in Season 7. But it's the cast members who have started showing up that have fans agog at how things might turn out. Could the far-out theories be true? Is Jaqen H'ghar in Game Of Thrones Season 8? Potential Spoilers and a whole load of speculation for Game of Thrones' final season follows.
Here's the situation: Filming for another Dragon Pit scene is happening in the coming days for Game of Thrones Season 8. That's not a rumor, that's a fact. The production has been on location in Seville at the Italica ruins where the Dragon Pit was filmed last year for the past several weeks, reconstructing the set.
At the beginning of this week, actors began turning up at the same hotel the group stayed in last year when they were in Seville, including Maisie Williams (Arya), who thought she was being slick, calling it a "holiday." Except Reddit took one look at the reflection in her sunglasses and recognized the building. (Reddit's amazing, ya'll.)
Earlier today, pics of the cast stunt doubles on location began circulating, and then the cast themselves, including Peter Dinklage (Tyrion), Nikolaj Coster-Waldau (Jaime), Sophie Turner (Sansa) taken by Maisie Williams (Arya), plus John Bradley (Sam), Issac Hempstead Wright (Bran), Joe Dempsey (Gendry), Hannah Murray (Gilly) and directors/showrunners David Benioff and Dan Weiss, all in a big group hug.
Got all that? That's two Lannisters and three Starks, plus three sidekicks deemed "most likely to live." WinterIsComing reports they've heard more on their way, including:
Gwendoline Christie (Brienne of Tarth), Iain Glen (Jorah Mormont), Conleth Hill (Varys), Liam Cunningham (Davos Seaworth) and Kit Harington (Jon Snow)
No directors been seen so far either, which makes WiCnet suspicious this is being filmed for the final episode, which is directed by Benioff and Weiss themselves.
But then a picture turned up of another actor who's in the city, taking selfies with his fans.
What is Tom Wlaschiha, aka Jaqen H'ghar, doing in Seville?
There have been rumors, stretching back to last fall Wlaschiha was back for the final season. At first, he was coy: "A Man Knows Nothing." But then a couple of months ago, he began dropping random pot-stirring theories in interviews, including he could be back and he could kill the Night King. There's even a rumor floating around H'ghar might reveal himself to be Rhaegar Targaryen in disguise the whole time. (Rhaegar is rumored to be coming back for Season 8, by the way, so there is something to this rumor, even if it seems ridiculous on the surface.)
Before getting too carried away though, fans should remember Benioff and Weiss have threatened to add actors and endings to the filming process who have nothing to do with Season 8, just to throw fans off the scent. They've done it before, too. Back in Season 6, during the filming of Tyrion and Varys Meereen walkabout scenes, there was a day when Sibel Kekelli, who played Shae from Seasons 1-5 was brought back, put in costume and even filmed, in order to get fans riled up and speculating about Tyrion having visions of Shae. (The scene where she filmed, by the way, is the one in the premiere where a red priest is holding court in a dark underpass. All signs of her are cut.)
This could easily be Benioff and Weiss bringing back a character to hang out around the set and get paid for a day or two of work, just to throw fans off of what's really happening. Or it could be proof a Faceless Man walks among out characters just as they think they've carried the day.
Fans will find out in 2019. Game of Thrones' final season will turn up on HBO at some point next year when it feels like it.