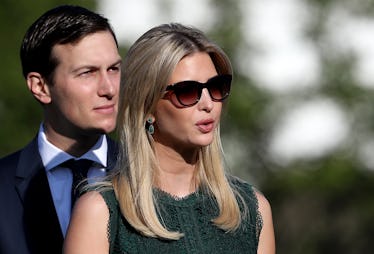 There's A Big Clue We'll See Ivanka & Jared At Karlie Kloss & Josh Kushner's Wedding
Win McNamee/Getty Images News/Getty Images
The Kushner/Trump (extended) family is about to get a little bigger now that Jared Kushner's brother Josh Kushner is engaged to model Karlie Kloss. A wedding date hasn't been released, but everyone's already buzzing about who from the Trump crew will be on the guest list. Sure they're family, but will Ivanka Trump and Jared Kushner be guests at Karlie Kloss and Josh Kushner's wedding? Well, you can't pick your family.
I'm sure the happy couple will have a glamorous wedding, but I can tell you that I wouldn't want to plan it (not that anyone asked), if only for the possibility of family drama alone. While the guest list has not been confirmed, the two Kushners are brothers, so it seems likely that Kushner and Trump will be invited to the shindig. Representatives for Kloss did not immediately respond to request for comment. But at the very least, there's one big clue that this familial relationship is solid, and it's Trump's response to the engagement.
Kloss made her engagement to Josh Instagram official when she posted a photo of the two of them on July 24. The caption read,
I love you more than I have words to express. Josh, you're my best friend and my soulmate. I can't wait for forever together. Yes a million times over 💍
Yeah, super cute. But the part everyone really cared about is that Kloss' soon-to-be sister-in-law commented on the post congratulating the couple. Trump wrote,
So, so happy for you and Josh! I feel blessed to have you as a sister (!!!) Karlie and look forward to the decades of happy memories we will create together as a family! ❤️
Judging by that comment it seems like they might be close(ish)? It's a pretty sweet sentiment, and would be pretty standard under normal circumstances. However, these aren't really normal circumstances given the fact that Kloss has expressed views critical of President Donald Trump and his White House policies. Truthfully, if it weren't for the fact that Kushner and Trump are immediate family, I think this would be extra complicated.
Kloss keeps her feelings about the Trumps pretty close to the vest, but it's clear that they don't necessarily see eye-to-eye. In a Sept. 12 interview with Vogue, the model said she's choosing to be with Josh "despite the complications." Kloss also said that she and Josh share the "same liberal values." She told Vogue,
Josh and I share a lot of the same liberal values that guide our lives and the things we stand for. We've really grown together personally and professionally. Josh knows that I'm just a nerdy, curious human being. I think that's why he loves me. We have each other's back.
While Kloss might refrain from directly saying anything about President Trump, she's a little more vocal about standing on the other side of the aisle. In March, Josh and Kloss were spotted at the March for Our Lives rally in Washington, D.C., which was organized by the survivors of the Feb. 14 Parkland shooting to call for gun control laws. Aside from joining the protest, Josh also donated $50,000 to the cause, according to USA Today.
I don't mean to pile it on, but Kloss also apparently voted for Hillary Clinton over President Trump in the 2016 election, according to her Twitter. On election day 2016, Kloss posted a photo of herself filling out what looks like a ballot and wrote, "One of the greatest privileges we have as Americans is a voice. I'm proud to say I did my part, now it's your turn. #I'mWithHer"
It seems like that would be the source of some very awkward family dinner conversations. But hey, blood is thicker than strongly held political views. Isn't that the saying?