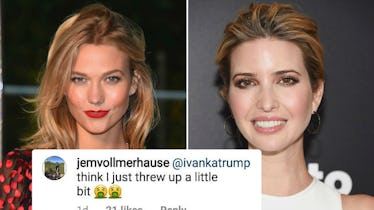 Ivanka Trump's Comment On Karlie Kloss' Engagement Post Has Fans Really Pissed
Larry Busacca/Michael Loccisano/Getty Images Entertainment/Getty Images
By now, you've probably heard the good news about Karlie Kloss and Joshua Kushner's engagement. And, if you haven't heard the news, you've definitely seen the news in the form of Kloss' jaw-droppingly gorgeous engagement ring. The pair has been dating for six years, which means that these two are clearly very close with each other and, by default, probably have met each other's families quite a few times. In case you weren't aware, Joshua Kushner's brother is Jared Kushner, who is married to Ivanka Trump — meaning that Karlie Kloss will soon technically be Ivanka's sister-in-law. Which begs the question: Are Karlie Kloss and Ivanka Trump friends?
Well, let's work our way backward here. Just a few days ago, a source close to Kloss and Kushner told People that the pair were engaged, saying that Kushner "proposed a few weeks ago during a romantic weekend together in upstate New York," adding, "They're both overjoyed and happily celebrating. Their hearts are full and they're excited to build their future together."
Kloss then made things Instagram official, posting to her account and writing,
love you more than I have words to express. Josh, you're my best friend and my soulmate. I can't wait for forever together. Yes a million times over 💍
Many fans and Kloss' celeb friends congratulated Kloss on her engagement... and so did her future sister-in-law, Ivanka Trump. The president's daughter responded to Kloss' photo confirming her engagement, writing,
So, so happy for you and Josh! I feel blessed to have you as a sister (!!!) Karlie and look forward to the decades of happy memories we will create together as a family! ❤️
So... here's the thing. It's pretty clear that Kloss and Trump share very different political views. Without getting *too* into it, let's just say that there are many topics that one supports that the other speaks out against pretty openly. While Ivanka clearly supports her father, President Trump, Kloss has been open in the past about where her political loyalties lie, taking to Twitter in November of 2016 to reveal a photo of herself filling out a voting ballot in support of Hillary Clinton. She wrote,
One of the greatest privileges we have as Americans is a voice. I'm proud to say I did my part, now it's your turn. #ImWithHer
She also made her stance against Trump's policy of separating migrant children from their families at the border very clear in a June 20 Instagram post, writing:
It's heartbreaking to watch from halfway across the world what is happening in our own country. It's not the time to say "there are no words", there are many. Politicizing the lives of these defenseless children and ripping them from their parents is heartless. We have to be the voices for these kids, and I support anyone standing up to do right by them.
Add that to the fact that Karlie Kloss and Joshua Kushner attended the Women's March after Trump's inauguration, and you have yourself a pretty tangled web of political beliefs in just one extended presidential family.
Hm. So where does that leave Kloss and Trump? Are they going to be "sisters" who make "happy memories" together like Trump suggested?
While we can't say for sure that the two are best buds, it should be worth noting that Kloss has yet to respond to Trump's comment on her photo.
Of course, once fans noticed Ivanka Trump's comment, they immediately called her out on it. Many fans feel that Trump is using Kloss and Kushner's engagement as an opportunity to align herself with the Victoria's Secret model and her celeb status. Let's just say they're a *little* bit salty with their responses to Trump's comment.
One user called Trump's well wishes "gross":
"girl ain't no one want that on their page. Gross. @karliekloss get rid of this message," the user wrote.
Some highlighted their comments with the "throwing up" emoji:
"'You can choose your friends, but you can't choose your family.' Your ,,happy Memories blablabla' is disgusting," another user wrote before adding a sick and throwing-up emoji.
One user kept things blunt, writing, "think I just threw up a little bit." Insert throwing-up emojis here.
And others held nothing back, like one user who called Ivanka the "one stain on this engagement" and added that Kloss "doesn't even follow" Trump on social media, so yikes:
"Karlie doesn't even follow you, Ivanka. She's a democrat, feminist, and overall good human being. She is the anti-you. Stop using her as a way to boost your public image. Your comment was more about you than it was about Karlie and Josh. You are the one stain on this engagement, and Karlie is miles above you. TLDR: F*ck off," the user wrote.
Of course, there were some supportive users who felt that Trump's message was sincere:
"this message is so sweet and supportive. Nothing like family uniting and being happy for one another," one user responded.
According to The Evening Standard, the last time Ivanka and Karlie were photographed together was at the 2016 U.S. Open, where they sat with mutual friend and Russian businesswoman, Dasha Zhukova:
And not to dig in too deep here, but the pair aren't even sitting next to each other, instead, putting the mutual friend in the middle.
And for the record, that offended Instagram user was right: Karlie does not follow her future sister-in-law.
Overall, I'd say that if you're waiting to hear that Karlie Kloss has chosen Ivanka Trump as her Maid of Honor, I'd have to tell you not to hold your breath. I don't know about you, but I'm truly looking forward to seeing who exactly makes it onto this wedding guest list.