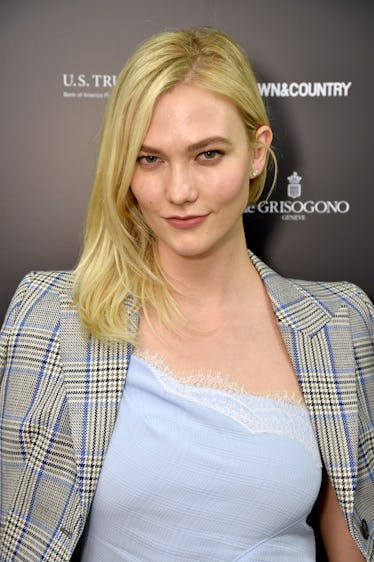 Karlie Kloss Shared A Photo Of Her Humongous Engagement Ring & I'm Stunned By Its Beauty
Bryan Bedder/Getty Images Entertainment/Getty Images
Karlie Kloss' engagement to her boyfriend Josh Kushner was a bright spot in the news yesterday. With all the devastating breakups happening these days, it was nice to see a little bit of love and light. Hope still exists in this world, you guys, and #Jarlie is living proof. Kushner apparently popped the question a few weeks ago while on vacay with Kloss, and she confirmed the big news on Instagram on July 24 with a sweet shot of the couple on the beach. She also showed off her massive rock in her Insta story, and OMG you have to see the photo of Karlie Kloss' engagement ring because that thing is goals AF!
In a video clip posted to her Instagram story — which features the 25-year-old model getting her hair and makeup did for a photo shoot in Beijing — Kloss explains that her "phone is blowing up with the sweetest messages from loved ones," and that "This poor makeup artist is going to kill me." LOL, #jokes. At the end of the vid, Kloss raises her right hand to her face to blow her fans a kiss, and that's when we get a glimpse of the new ice skating rink — I mean, engagement ring — on her fourth finger.
Here's a screenshot:
It's mad impressive, right? And so is the couple's relationship. The pair has been dating for six years and has somehow managed to keep things on the down-low, which is super hard to do when you're gorgeous and famous and a six foot two supermodel. But somehow these two persevered, and now it seems like Kloss is finally ready to share all their love and happiness with the world.
"I love you more than I have words to express," Kloss wrote in the caption of her July 24 Insta post announcing the engagement. " Josh, you're my best friend and my soul mate. I can't wait for forever together. Yes a million times over."
So freaking sweet!
Kushner also shared the big news on Insta, with a post that featured a picture of Karlie and one simple word:
"Fiancée," he wrote in the caption. And, like, mad props dude for actually spelling it right.
I'm gonna be real honest here for a sec — I didn't even know these two were dating before they announced they'd gotten engaged yesterday. But now that I do, I am actually so here for it. They are just so adorable together that I'm all kinds of jealous. I mean, check out another one of Kushner's Insta posts, where he compares Kloss to Wendy Peffercorn, the hot lifeguard in that iconic red bathing suit from The Sandlot:
I SO see it! But here's the original, as played by Marley Shelton, in case you need a reminder:
Legends, both of them, am I right?
Also, look at this image Kushner posted of Kloss dancing at Coachella:
And this one, which Kloss shared while rocking a pair of NASA specs in honor of Kushner's birthday:
In the Universe... get it?
The two of them just seems so artsy and nerdy and seriously in love that I totally ship this relationship, even though Josh is related to that other Kushner. The only questions left are, will Tay Tay get to be maid of honor and, if so, will we finally get a re-enactment of this epic moment:
#Prayers.