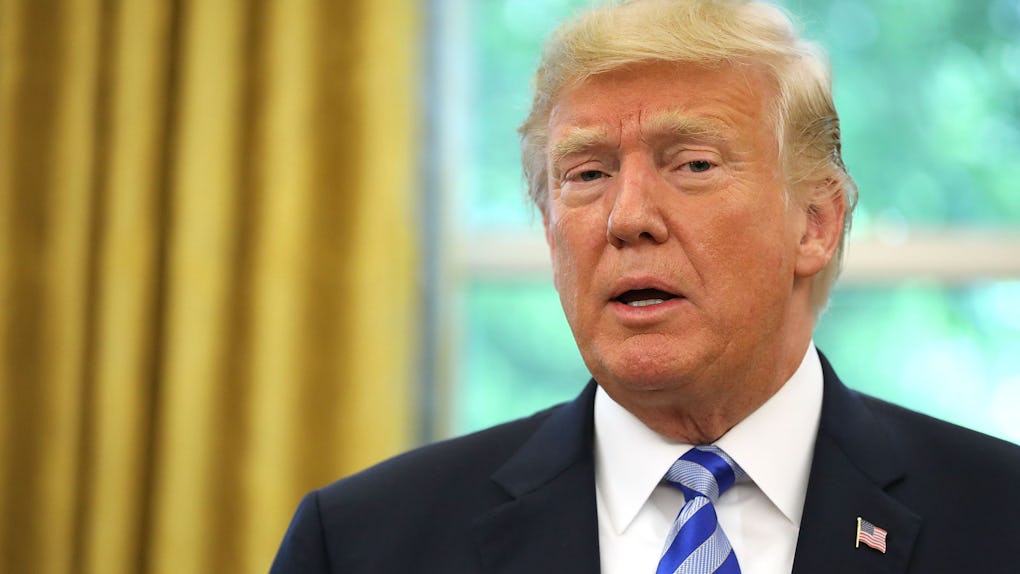 Chip Somodevilla/Getty Images News/Getty Images
Will Donald Trump Be At Karlie Kloss & Josh Kushner's Wedding? He Might Have To Crash
Jared Kushner might be tied to President Donald Trump, but that doesn't necessarily mean the rest of the Kushner family has to be. Jared's brother Josh Kushner recently got engaged to girlfriend Karlie Kloss, but this family wedding might not be the most private. When the couple tie the knot it's likely Jared and Ivanka Trump will be in attendance as direct family, but will Donald Trump be at Karlie Kloss and Josh Kushner's wedding? I think his invitation might get lost in the mail.
Kloss has been pretty private when it comes to her relationship with Kushner, particularly in regards to his brother-in-law. She's also been pretty tight-lipped about her views on Trump and what it feels like to be joining the fold. However, she did make a slight mention of it during a Sept. 12 interview with Vogue. While Kloss didn't come right out and say anything specific on her views towards Trump, she did say that she's choosing to be with Kushner "despite the complications." Could those complications be Trump-sized? It's unclear, but in that same interview Kloss also said that she and Kushner share the "same liberal values." She told Vogue,
Josh and I share a lot of the same liberal values that guide our lives and the things we stand for. We've really grown together personally and professionally. Josh knows that I'm just a nerdy, curious human being. I think that's why he loves me. We have each other's back.
Kloss' statements in Vogue might not reveal a lot about whether or not Trump will snag an invite to the wedding, which doesn't yet have a date, but there have been a few other moments that make me think that the president will not be invited. Elite Daily reached out to a representative for Kloss for comment on whether the couple plans to invite Trump to the wedding, but did not immediately hear back.
Both Kloss and Kushner have openly protested against Trump policies, though. In March, the couple was spotted at the March for Our Lives rally in Washington, D.C., which was organized by the survivors of the Feb. 14 Parkland shooting to call for gun control laws.USA Today reported that Kushner also donated $50,000 to the cause.
Kloss was also very vocal about Trump's "zero tolerance" immigration policy, which stated that any undocumented person found crossing the border would be prosecuted and resulted in thousands of migrant children being separated from their parents at the border. In June, the model posted to Instagram urging her fans to call their representatives and support a bill to keep families together. Kloss wrote that it's "heartbreaking" to watch what's "happening in our own country." She captioned her photo,
It's heartbreaking to watch from halfway across the world what is happening in our own country. It's not the time to say 'there are no words,' there are many. Politicizing the lives of these defenseless children and ripping them from their parents is heartless. We have to be the voices for these kids, and I support anyone standing up to do right by them. What can you do? Many things but FIRST, call your congressperson RIGHT NOW and support the bill, US - S 3036. No matter what side of the aisle you are on - speak up. #KeepFamiliesTogether
I think it's important to note that while Trump might not be invited to Kushner and Kloss' wedding, he's apparently not above crashing one. According to a 2016 report from The Cut, Trump tried to crash Chelsea Clinton's wedding in 2010. Joe Conason, political commentator and journalist, claimed in his book, Man of the World: The Further Endeavors of Bill Clinton, that Trump believed he was invited to Clinton's wedding but thought his invitation got lost in the mail or there was some mixup. Reportedly, he called Doug Band, an aide at the Clinton Foundation at the time, and asked for directions — which Band, knowing that Trump wasn't invited, reportedly declined to give.
In light of Kloss and Kushner's apparent views, if I were a betting gal I'd put my money on Trump having to crash this wedding too. Hey, would it even be a wedding without family drama?