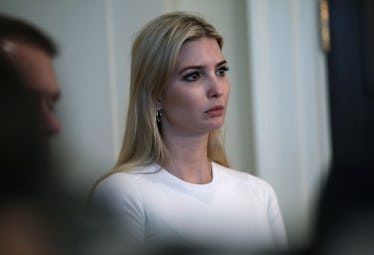 Ivanka Trump Isn't Talking About Going To The Border & TBH I'm Not Shocked
Win McNamee/Getty Images News/Getty Images
The recent crisis of separating immigrant children from their families at the border has everyone's attention. On June 21, Melania Trump jetted off to McAllen, Texas to visit an immigrant children's center, but it didn't necessarily receive a warm reception from the public. So, will Ivanka Trump go to the border to join her step-mother? She hasn't revealed any plans so far. Elite Daily reached out to a White House representative for comment about whether Trump plans to visit the border and any plans that may be in the works, but did not immediately hear back.
On June 20, Donald Trump signed an executive order which he says will stop the separation of immigrant children from their families at the border. This "solution" may sound like good news at first, but let's not forget that prior to this order there was never a law that required families to be separated in the first place. Plus, even though this order may technically "stop" this crisis from happening further, it doesn't address whether separated children will be reunited with their families immediately. Well, in typical first daughter fashion, Ivanka Trump took to Twitter on June 20 to share her thoughts on her father's executive order.
She wrote,
Thank you @POTUS for taking critical action ending family separation at our border. Congress must now act + find a lasting solution that is consistent with our shared values;the same values that so many come here seeking as they endeavor to create a better life for their families
Even though Trump might be tweeting about her concern for this crisis, she has yet to announce any plans to physically visit the border or any immigrant children's center as of yet — although, considering that Melania Trump's visit was reportedly something of a last-minute decision, it's possible that the first daughter might decide to do something similar. On the other hand, prior to this tweet she had remained excruciatingly silent on the issue. As a mother and daughter herself, one would think Trump would be the first to step up and fight against this injustice.
Her silence led to criticism from many of her peers, especially Meghan McCain, who called her out on The View on June 19. "Where is Ivanka in all of this? Because she is all for women and mothers, and she has a White House role, and a job," McCain asked.
Ivanka's tweet is great and all, but what's needed right now is physical support and assistance. However, judging from the reception to Melania Trump's visit to the immigrant children's shelter, Trump might not be jetting off anytime soon. On June 21, first lady Melania Trump decided to take a trip to Texas to visit a center for immigrant children, but her choice of outfit distracted all of us from her seemingly good intentions. While boarding the plan, Melania was photographed wearing a green army jacket that said "I don't really care, do u" on the back. I don't know about y'all, but haven't stopped cringing. According to CNN, the jacket is made by fashionable clothing company Zara, but I simply can't ignore how inappropriate that outfit is for this specific occasion.
To be honest, I wouldn't exactly be shocked if Ivanka decided not to visit the border at the moment. Even though she might be the most officially involved first daughter in the history of the White House, Trump has a history of disappearing acts while her father is in hot water. In 2017, while the Republican party tried to (and failed) to repeal the Affordable Care Act, Ivanka took a trip to Aspen with her family to enjoy a vacation. Plus, in August 2017, Ivanka relaxed in Vermont while her father was dealing with the Charlottesville protests, in which a woman was killed. I'm not saying that she doesn't deserve some down time every now and again, but she could probably be a bit wiser choosing her vacation days.
Hopefully Ivanka Trump will be making her way to the border sometime soon, but she can definitely leave the military jackets at home.