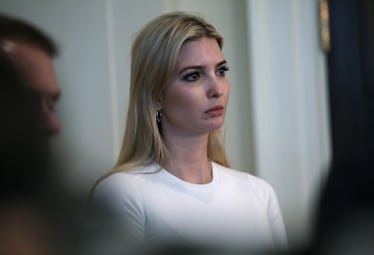 Ivanka Trump Tweeted A Real Hot Take About Her Dad's Action On Separating Families
Win McNamee/Getty Images News/Getty Images
Ivanka Trump, the self-described champion of women and children, has seemingly been MIA amid outrage over the Trump administration's "zero tolerance" policy in the past few weeks since its implementation, which has subjected her to heavy criticism. I have good news for you, though: Ivanka Trump has finally spoken up about the highly-controversial regulation. But Ivanka Trump's tweet on Donald's border executive order may or may not be what you expected to see from her.
On Wednesday, June 20, Trump took to Twitter to share her thoughts on her father's recently announced border executive order, which aims to keep migrant families together at the border. She wrote,
Thank you @POTUS for taking critical action ending family separation at our border. Congress must now act + find a lasting solution that is consistent with our shared values;the same values that so many come here seeking as they endeavor to create a better life for their families
Yeahhh, this comment is long overdue, if I'm really being honest. It's also concerning to see her shift the responsibility on Congress to find a better "solution" to the policy when there was never any law that required families be separated to begin with. I just... can't, you guys.
Many Twitter users were equally floored.
As the backlash to the policy intensified, Trump has been disturbingly quiet, opting to spend her time on social media instead of publicly addressing the regulation. However, in a closed-door meeting on June 19, the president reportedly insisted that Trump had privately asked her father to put an end to the policy. Rep. Carlos Curbelo, told reporters,
[President Trump] mentioned that his daughter Ivanka had encouraged him to end this, and he said he does recognize that it needs to end and the images are painful and he's looking for a legislative solution. He discussed the optics and the policy itself and I think he's not comfortable with either.
New York Times reporter Maggie Haberman rebutted the comments in a tweet shared on June 19, though. Haberman claimed Trump had approached her father and simply asked, "Daddy, what are we doing about this?" Donald reportedly responded by saying it was a "tough issue" and changed the subject. The White House did not respond to Elite Daily's request for comment on Ivanka Trump's input or the reported conversations.
Trump's passive approach to the policy hasn't come without scrutiny, though. Also on June 19, during an episode of ABC's The View, Meghan McCain called out the first daughter for prolonged silence on the controversial policy. "Where is Ivanka in all of this? Because she is all for women and mothers, and she has a White House role, and a job," she said. She added, "I'm sort of interested that her whole platform has been women and mothers and she doesn't seem to have anything to say about this."
MSNBC's Morning Joe co-host Mika Brzezinski also dedicated an entire monologue to Trump during a segment on June 15, after she obliviously posted a photo of herself with her son in the wake of national outrage over the separation policy. Brzezinski said,
This is a story about women and their vital role as mothers, and when you have babies being taken away from their mothers, you have to ask why the counselor to the president — who was brought in to help the president perhaps create good policies surrounding women, parental leave, domestic policies that are important to women in this country — you have to ask why Ivanka Trump is so tone deaf to post a picture about her special day yesterday with her daughter?
"Because this is about who we are as a nation. It's also about women and their vital role as mothers," she added. "And we're losing every every step here. We're losing a sense of who we are, and it's wrong."
@Brzezinski:
All this proves that silence really can be golden. Better luck next time, Trump.