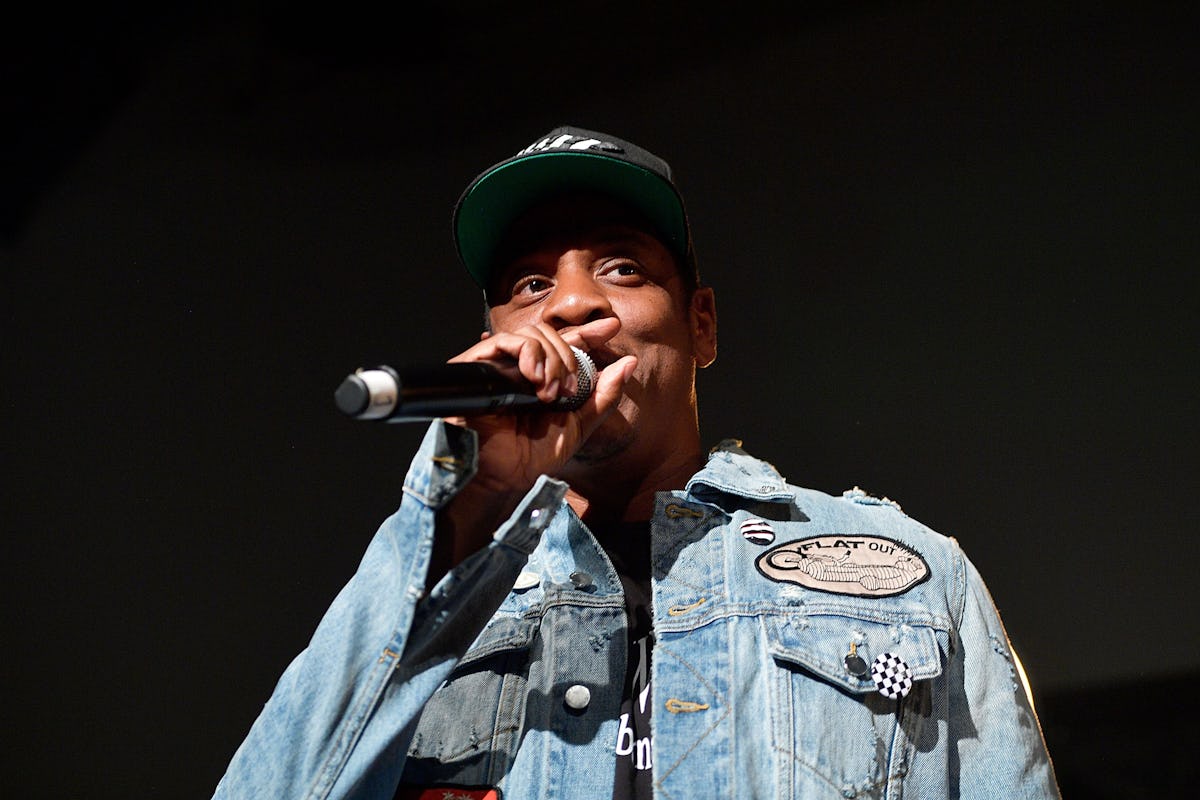 JAY-Z's '4:44' Album Is Still MIA From Spotify, & It Probably Will Be For A Long Time
Matt Winkelmeyer/Getty Images Entertainment/Getty Images
While our parents and guardians raised us to become the adults we are now, there's no denying that JAY-Z influenced and stood by many of us throughout childhood. He was there for us through our angsty pre-teen years with "Dirt Off Your Shoulder," through breakups with "99 Problems," and, of course, through those crazy times in high school with "Young Forever." So obviously, many of us were beyond excited when we heard about the release of his latest album, 4:44 — especially upon hearing "Family Feud." But many of us without Tidal are asking: Will "Family Feud" and 4:44 be released on Spotify?
Based on what we've heard from 4:44, it's a really incredible album. While "Family Feud" is a highly-regarded hit, other songs like "Smile" and "Moonlight" have also won our stamps of approval. But, since the album is only available on TIDAL as far as streaming services go, JAY-Z fans and rap enthusiasts are wondering if and when 4:44 will finally make it to Spotify. Unfortunately, we're thinking it won't be for a while, based on the fact that JAY-Z owns TIDAL. He also pulled all of his other music from Spotify earlier this year. Plus, other rap albums that stayed on TIDAL for months weren't released on Spotify for quite a while.
According to Business Insider, JAY-Z bought Tidal in January 2015 and officially launched its streaming services in March 2015 after an official launch party in Los Angeles. A variety of artists such as Alicia Keys, Arcade Fire, Rihanna and Kanye were in support of the new streaming service, and it soon gained immense popularity. Since JAY-Z owns TIDAL and wants to further promote it to potential subscribers, we're kind of starting to think that he might just not sell his latest album to Spotify at all.
A wide variety of artists have started to take their music off Spotify because of their business model, according to Fortune. Musicians such as Taylor Swift and Thom Yorke from Radio Head have also criticized Spotify's business model, basically saying it swindles musicians out of control over their music, and, based on the fact that it's free, doesn't pay them what they deserve.
Musicians like Kanye West released his latest album, Life of Pablo on TIDAL, and although he wasn't planning on release it to Spotify at all, he didn't sell it to them until almost two months later. So although there's still a chance that the king of hip-hop is just waiting to eventually release 4:44 to Spotify — as did Kanye — it seems that JAY-Z is totally over the free streaming service, and that he really isn't planning on going back to it any time soon. Totally a bummer.
If your budget doesn't make room for a TIDAL subscription and you're really craving a 4:44 jam sesh, TIDAL has a 12-day free trial. When you finally take that long-awaited listen to 4:44, make sure to check out the widely-talked about "Family Feud," which just had a music video release. Everyone is going nuts over it, and jamming to it should definitely at the top of your to-do list for this upcoming weekend.
Although we're starting to think that 4:44 won't ever make it to Spotify (since JAY-Z owns TIDAL and because it's a better deal for the artists), we'll still find a way to listen to his newest album. "Bam" is a favorite, and there's absolutely no way I'll be missing out on Blue's freestyle track — so I'm really starting to consider buying a TIDAL subscription for myself.
Check out the entire Gen Why series and other videos on Facebook and the Bustle app across Apple TV, Roku, and Amazon Fire TV.