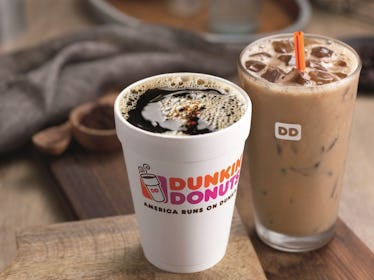 If You're Hoping To Run On Dunkin' This New Year's Eve, You Might Be In Luck
New Year's Eve is coming up quick, which means you'll have to start resting up for a late night (you don't want to fall asleep before the ball drops, do you?). I'm already predicting that I'll be sipping on coffee in between champagne toasts, but that's just me. If you're also planning on sipping on a cup of joe or two throughout your NYE festivities, you're probably wondering: will Dunkin' be open on New Year's Eve 2018? I totally get it. If you run on Dunkin' every day, you'll probably want to close out the year running on Dunkin', too. However, there are a few things you should know before you start planning your coffee runs for Dec. 31.
According to a statement by Dunkin' provided to Elite Daily, holiday hours will vary by location. Yes, that means the Dunkin' near you might not have the same hours as the Dunkin' near your best friend's house, so make sure you check out the location's hours before you hit the road on New Year's Eve. In order to do so, Dunkin' suggests downloading its mobile app and checking the hours there. By doing so, you'll be able to plan your coffee pit stops accordingly on New Year's Eve (if your local Dunkin' is even open, that is).
Based off of Dunkin's statement, it looks like not all locations will be open on New Year's Eve. The company says that "many" Dunkin' locations will be open on the holiday, which means you should probably double check that your closest spot is serving the goods. It'd be a total bummer to show up at Dunkin' on New Year's Eve hoping for a warm cup of coffee to realize its doors are locked — so do your best to keep yourself informed.
Dunkin's statement also made it clear that hours on Christmas Eve, Christmas Day, and New Year's Day will also vary by location. This means that if you're hoping to stop by Dunkin' for a coffee on your way to a relative's house for a holiday party, you should double check the hours of that particular spot by using the company's mobile app. If that location ends up being closed (or you stop by when it isn't open yet), you can try using the app to find a different Dunkin' location that's open.
If you do end up visiting a Dunkin' location on Christmas Day or Christmas Eve, you can try one of the company's holiday doughnuts. One of the options you can try is the adorable Dear Santa Donut, and the other is the ever-so-cute Hershey Kisses Donut. According to a press release sent to Elite Daily, these festive doughnuts went on sale on Nov. 19, and they'll be available through the end of the year (or while supplies last).
If you're lucky enough, that means you might be able to score a festive holiday doughnut when you visit your local Dunkin' on New Year's Eve. If they aren't available anymore at your particular spot, grab a coffee and enjoy the night's festivities.