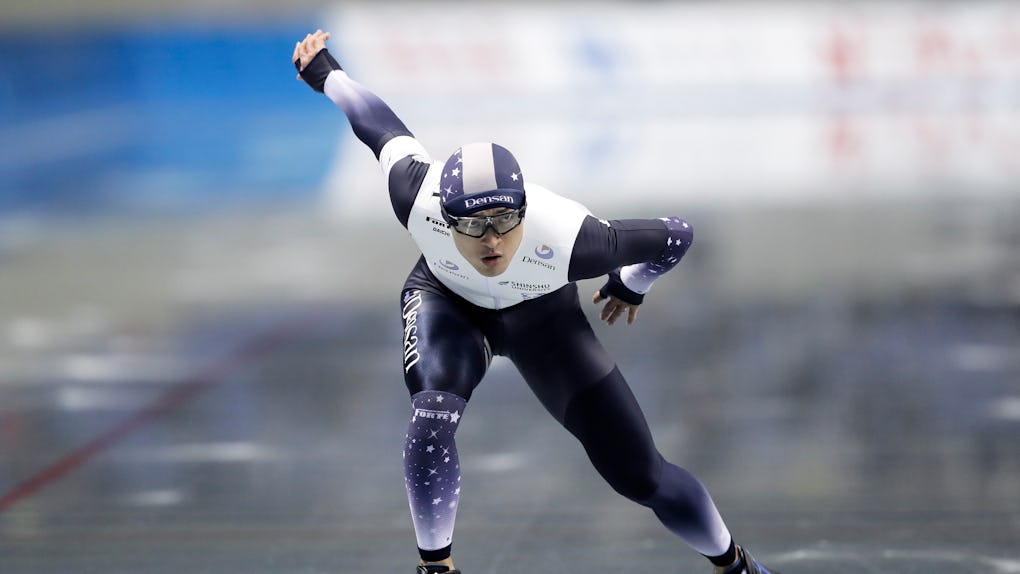 Kiyoshi Ota/Getty Images Sport/Getty Images
Will Donald Trump Go To The Winter Olympics? It's An Open Question
The 2018 Winter Olympic Games are set to begin Feb. 9 in PyeongChang, South Korea, just 50 miles south of the demilitarized zone between South and North Korea. The tense relationship between the U.S. and both Korean nations has drawn uncertainty from some about whether the U.S. would even compete this year. Aside from the presence of American athletes is the question of whether President Donald Trump will go to the Winter Olympics, as well as what his family will do.
South Korea is apparently gunning for Melania and Ivanka Trump to lead or at least participate in the delegation to the Olympics, per USA Today. "It would be an honor for us to have the First Lady and the First Daughter, Ivanka," said Lee Hee-beom, president and CEO of the PyeongChang organizing committee. "Hopefully they can participate. It would very meaningful for us to have them." This would follow precedent: President Barack Obama did did not attend the 2012 Olympic games in London, UK, but Michelle Obama went as part of a presidential delegation.
There's somewhat of a long-standing tradition of U.S. presidents attending Olympic Games. President George W. Bush, for instance, attended the 2008 Summer Olympics in Beijing, China. However, Barack Obama continually broke the tradition. Along with skipping the London Games, he did not go to Rio de Janeiro, Brazil for the 2016 Olympic games, despite an invitation, although he did send a presidential delegation. Obama also did not attend the 2014 Winter Olympics in Sochi, Russia, saying he didn't want to be a distraction from the competition. In 2010, Vice President Joe Biden attended the Winter Olympics opening ceremony in Vancouver, Canada.
Outside of Trump's attendance himself in PyeongChang, there has also been questions in recent weeks as to whether the U.S. will be sending a team at all. On Dec. 7, U.S. Ambassador to the United Nations Nikki Haley said it was an "open question" whether the U.S. would be sending a team. White House Press Secretary Sarah Huckabee Sanders echoed the sentiment, saying that the decision would be made at a later time and suggesting that Trump would weigh in on the discussion. But in a tweet on Dec. 7, Sanders said "the U.S. looks forward to participating in the Winter Olympics in South Korea."
In a statement reminiscent of high school birthday party drama, one lawmaker also threatened his I'm-not-going-if-they're-going position. On Tuesday, Jan. 2, Senator Lindsey Graham (R-SC) implied in a tweet that the U.S. may not be sending a team, or even boycotting the games, saying he "fully believe[s] that if North Korea goes to the Winter Olympics, we do not."
And Trump's leadership itself has even cast doubt on which athletes might actually compete in the Olympics by choice. A number of American athletes have spoken out against Trump; skier Lindsey Vonn told CNN she'll be competing for her country, not her president. She also added that, if she were given an invitation to go to the White House, she wouldn't accept.
Let's get this straight, though. Despite the impression that Haley and Sanders gave, it's not the administration's call whether to send a team to the games. The U.S. Olympic Committee (USOC), as USA Today reports, has the sole discretion to make that determination. The USOC works closely with the Department of Homeland Security and State Department, it does not receive federal funding and is not itself a federal agency.
"We have not had any discussions, either internally or with our government partners, about the possibility of not taking teams to the 2018 Olympic and Paralympic Winter Games," USOC spokesperson Mark Jones said on Dec. 7, per USA Today. "We plan on supporting two full delegations in PyeongChang."
On Monday, Jan. 1, The Independent reported that Kim Jong-un announced he'd be sending a North Korean team to the Olympics this year, extending an olive branch of sorts to its southern neighbor. But in his address, he also reminded the U.S. of its nuclear might in a thinly-veiled threat.
But as for whether Trump himself would attend? That's still up in the air, and unlike the decision to send a team to compete on behalf of the country, it's unclear when the decision will be made, and who or what gets to make the call.
Tensions between North Korea and the U.S. have been steadily rising all year as the two countries' leaders have exchanged barbs and threats and missile launches have continued to escalate. Things seemed momentarily eased when Trump and his wife Melania were in South Korea in early November during their 11-day tour of Asia.
So it's still an open question if President Trump will head to PyeongChang in February. But at least he'd be in good company if he sits this one out, as Russia has been banned from this year's games.