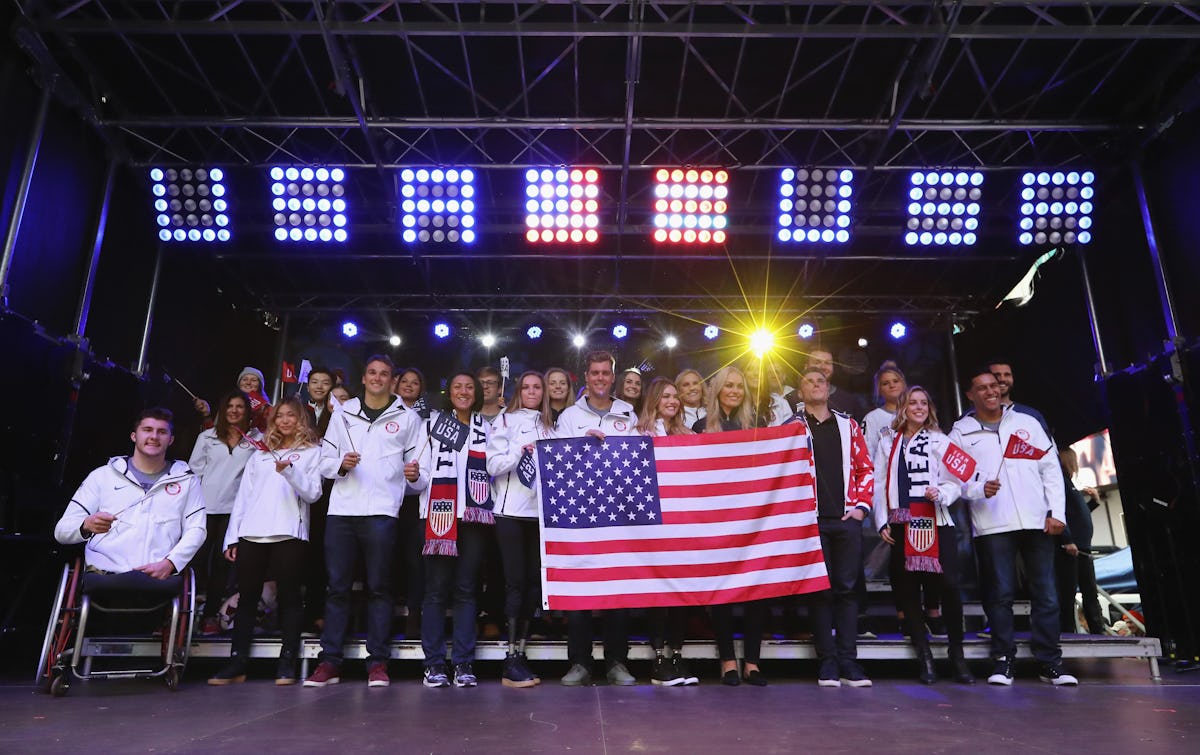 The Trump Admin Might Take The U.S. Out Of The Olympics Because Of Kim Jong-Un — Seriously
Abbie Parr/Getty Images Sport/Getty Images
Feb. 9 marks the beginning of the 2018 Winter Olympics, held in PyeongChang, South Korea, a city that lies just 50 miles from the demilitarized zone separating North and South Korea. With a volatile relationship between the U.S. and North Korea, U.N. Ambassador Nikki Haley says its an "open question" if American athletes will compete or not in February. Due to the increased military drills and missile tests, the "brink of nuclear war" might put the safety of Olympic athletes at risk, she said.
During an interview with Fox News, Haley was asked if the U.S. athletes would be able to compete. She responded, "There's an open question. I have not heard anything about that, but I do know in the talks that we have — whether it's Jerusalem or North Korea — it's about, how do we protect the U.S. citizens in the area?"
The concerns are understandable, considering President Donald Trump and North Korean leader Kim Jong-un have been sending each other warnings via military exercises. Last week, North Korea broke a two-month silence by launching a ballistic missile with the capabilities of "striking the whole mainland of the U.S," South Korean officials said. The missile was reportedly the most powerful type that any country had tested before.
After word about North Korea's new missile test, the U.N Security Council held an emergency meeting where Haley said if war were to happen from North Korea's continued aggression, "the North Korean regime will be utterly destroyed."
As a response to Jong-un's test, the U.S. sent a supersonic bomber over South Korea on Wednesday, Dec. 6 as a way to practice potential strikes on North Korea, and to, of course, send a threatening warning. Because this is how our world leaders engage in sport and recreation.
Before the military drills began again, the Trump administration added North Korea back on the U.S.'s State Sponsors of Terrorism list, sitting right above Iran, Sudan, and Syria. The last country to be added before North Korea last month was Sudan in 1993.
These two world leaders may have their "fingers on the trigger" that is nuclear war, but Haley thinks the climate is "changing by the day," making it too early to make calls on Team USA at the Olympics. "I think it depends on what's going on at the time in the country," the U.N. ambassador said, claiming that the U.S. is taking "every precaution" for the athletes' safety.
North Korea has also not said if they will be sending athletes to compete in PyeongChang, despite the open welcome from the South Korean government, according to the Washington Post. It wouldn't be surprising if North Korea opted out, considering they rejected South Korea's invitation to the 1988 Summer Olympics. The bad blood runs deep. The one country that we know will not be in attendance is Russia, but not by choice. On Dec. 5, the International Olympic Committee (IOC) banned Russia from competing after a long investigation into a doping scandal that involved dozens of Russian athletes. Individual athletes may be able to compete, by wearing a neutral uniform with the Olympic anthem playing during ceremonies, not their national anthem. Russian officials are not allowed to attend, and the country's flag will not on display.
If the United States does not compete in the 2018 Olympics, it may send a strong message to North Korea, one that reeks of fear and animosity, even though Haley told Fox News, "We don't ever fear anything, we live our lives." The U.S. has a few months to decide on whether Team USA will participate in the global event that has historically united nations together through sport and competition. Let's hope it can stay that way.