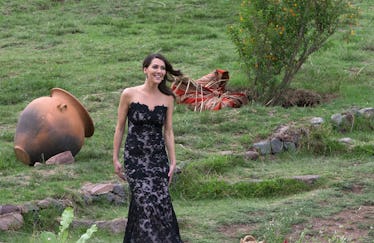 Fans Are Wondering If Becca K. Will End Up In 'Paradise,' Here's What We Know
ABC
After two months of drama, The Bachelor Season 22 finale is finally here. Only two women remain, Becca K. and Lauren B., and Arie has strong feelings for them both. Host Chris Harrison has been psyching us up for a huge final twist since the season premiere on Jan. 1, so it's safe to say that expectations are high going into the game changing finale. Will Arie propose to Becca K., leaving Lauren B. in the dust? Or will Becca K. be on Bachelor in Paradise, giving her another chance to find love if Arie chooses Lauren B.? Regardless of what happens on The Bachelor finale, fans are hoping that they'll get a chance to see Becca K. again, either as Arie's fiancée or in Paradise.
While fans don't know yet whether Becca K. will make an appearance on Bachelor in Paradise, they may be able to get a few clues from her Instagram account. The 27-year-old publicist has been mostly posting Bachelor throwbacks recently, but she has shared a few non-Bachelor pics with her die hard followers. On Jan. 1, she posted a boomerang of her and a friend dancing with the caption "Market it so good #ciara," lyrics from the Ciara song "Ride." Clearly, Becca K. isn't afraid to have a little fun, and isn't that what Bachelor in Paradise is all about? I'm thinking that her laid back attitude and bubbly personality will be a welcome addition to Paradise.
Becca K., if you do go to Paradise, let me know if you need someone to take care of your adorable corgi and booger-wiping cat.
The fan-favorite brunette has been a frontrunner since the premiere, when she joked around with Arie by making him pretend to get down on one knee and propose. The next week, Becca K. won the first one-on-one date, and Arie took her on a luxury shopping spree that made the other women insanely jealous. Arie has been up front about his feelings for Becca K. since the beginning, saying that he "always knew that she'd make a great wife and mother" in a People blog post. But in that same post, Arie also said that he was head-over-heels for Lauren B. "I couldn't logically explain any of my feelings. I didn't know why I felt so strongly, I just did ... I was falling in love with Lauren and needed to give her a rose," he wrote. Could his uncontrollably-strong feelings for Lauren B. overcome his feelings for Becca K. in the finale? I definitely wouldn't want to be in Arie's place and have to choose between these two amazing women.
Fans who want to see Becca K. on Bachelor in Paradise aren't alone in wanting more of the Minnesotan: Twitter is also campaigning for Becca to become the next Bachelorette, should Arie choose to propose to Lauren B.
If fans really want Becca K. to find love, her odds are probably better on The Bachelorette. Not that Bachelor in Paradise isn't a fun time, but generally, the contestants are there for the party first and the serious talks about love and relationships second.
Becca K. hasn't commented on either of these fan theories, but there's one thing she's been totally open about: her ex-boyfriend Ross' sudden appearance in Peru. After Ross tried (and failed) to win her back, Becca K. sent her ex packing and insisted that she wouldn't give up on her love for Arie. When the episode aired on Monday, Feb. 26, Becca tweeted, "I stand by my decision to not accept an unhealthy relationship back in my life. I will never doubt or question that. #selflovemotherssssss."
It takes serious balls to stand up to an ex who flies halfway across the world to see you, so whatever happens during The Bachelor finale, I know Becca K. will handle it with courage and grace.
On Tuesday, March 6, fans will finally learn who will be the next Bachelorette during the live "After the Final Rose" special. If Becca doesn't come out onstage to introduce herself as the next Bachelorette, it's a safe bet that she'll be on the upcoming season of Paradise. So, Becca K. fans, don't fret. One way or another, you'll likely be seeing a lot more of your favorite Bachelor Nation contestant.