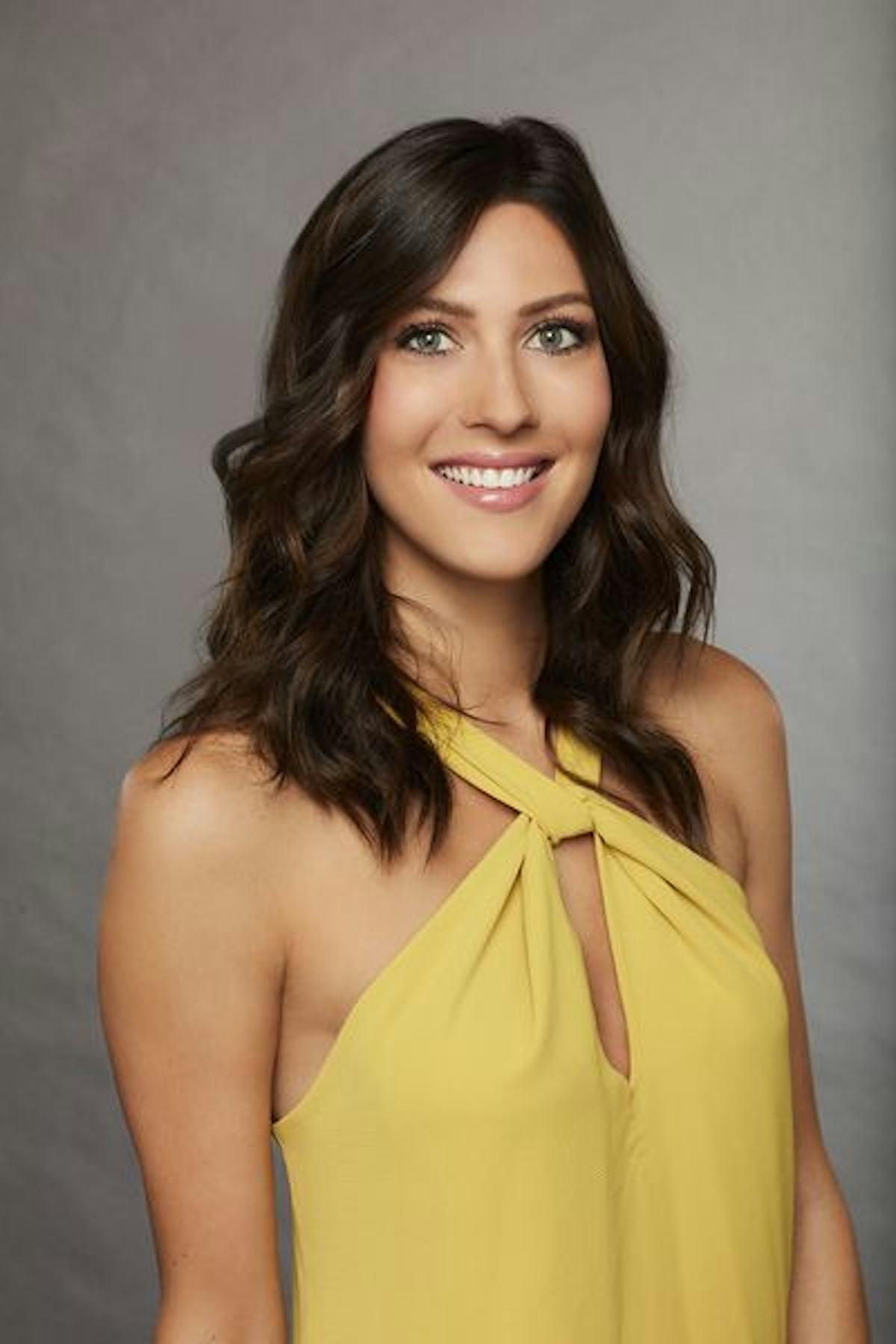 Fans Are Already Campaigning For Becca K. To Be 'The Bachelorette' & We're Here For It
ABC/Craig Sjodin
There have been plenty of highs and lows on this season of The Bachelor (one low being the world's most boring reality TV contestant Arie Luyendyk Jr.), but in Week 9, the drama was finally kicked up a notch with the arrival of Becca K.'s ex-boyfriend, Ross. Ross arrived in Peru to try to win Becca K. back, but no matter what he said, Becca refused to give up Arie. It was a bold move on Becca K.'s part — maybe even bold enough to put her ahead in the race for The Bachelorette. Will Becca K. be The Bachelorette? Fans are already campaigning for the brunette beauty to take over the franchise, and we're so here for it.
While we don't know who Arie will propose to in the finale, there are a few things we do know, including some that point to Becca K. being the next Bachelorette. During the Feb. 25 "Women Tell All" special, former contestant Caroline made a cryptic comment that has left Bachelor Nation on the edge of our seats. In a super intense moment, Caroline, pissed to the point that she almost cried, told Arie, "I know what you did." OMG Caroline, we need more info!
Our first assumption is that Arie proposed to someone, then changed his mind, which he hinted at in a December People interview.
I fell in love with two women, and I didn't know I was capable of that. I've never been in that situation, and it was really hard. And they were two very different women, and that's what made it even harder. I didn't know I was really capable of having strong feelings and being in love with more than one person, but that happened. The end was really difficult for me. And I think that it's because it's such a huge decision, and it's my life. But I'm happy, and I wouldn't have changed anything.
Naturally, with three contestants left, it's highly possible that Becca K. is one of the two women involved in this story. And considering that Arie wrote in a blog post for People that he's had a strong connection with Becca from the very beginning of the show, we're thinking that the fan-favorite contestant is definitely involved in the finale's shocking events.
In the days since the Peru episode, fans of Becca K.'s have taken to Twitter to campaign for her to become the next Bachelorette.
Fans are super into Becca K.'s laid-back attitude, her natural charisma, and her ability to crack a joke. Don't forget, in the first episode, she made Arie get down on one knee and pretend to propose to her, and it was exactly the kind of fun, easy-going first impression that fans love.
There's still a lot that can happen until The Bachelorette is released, so Becca K. shouldn't get too comfortable at the front of the race. The Twitterverse is also campaigning hard for Seinne, the intelligent Yale grad who wowed viewers with her articulate hot-seat interview during the "Women Tell All" episode. Host Chris Harrison didn't hold back on the compliments, calling Seinne "intelligent, beautiful, and sweet," all of which are qualities ABC looks for in a Bachelorette. Plus, Seinne has the support of Bachelor alums like Rachel Lindsay and even Arie himself. After the "Women Tell All," Arie tweeted about Seinne, calling her "the definition of class" and expressing hope for her romantic future.
And in January, after Seinne discussed falling in love as a black woman on her one-on-one date with Arie, Rachel reminded her that there is definitely room for diversity in The Bachelor franchise.
According to ABC, we'll know for sure whether it's Becca K. or Seinne (or a surprise contestant) handing out roses on The Bachelorette during the live "After the Final Rose" special on Tuesday, March 6. Until then, let's just hope that Arie finds love that sticks in the finale, because we can't handle another season of this dude.