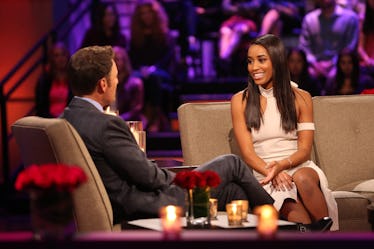 Twitter Is Begging To See Seinne As 'The Bachelorette' & We're Here For It
If played correctly, the "Women Tell All" can be the perfect opportunity for a contestant to subtly plead for the lead spot on The Bachelorette. On The Bachelor's "Women Tell All" this week, you could practically see Tia sniffing out her chances of snatching up the position. On the other hand, articulate Yale graduate Seinne delivered a low-key hot seat interview, reminding Twitter that Raven 2.0 isn't the only option for Bachelorette this year. With Twitter advocating hardcore for her, will Seinne be the Bachelorette?
In her one-on-one time with Chris Harrison, 27-year-old Seinne admitted that she didn't expect Arie to dump her at the end of their date in Tuscany, but that she always had an inkling that their relationship wouldn't have progressed anyway. Clearly she knows how to separate the men from the boys, which would be an excellent quality to have as Bachelorette.
Chris then began to ladle Seinne with praise, calling her "intelligent, beautiful, and sweet," and as someone very familiar with the old school Bachelorette announcements, his compliment spree sounded very much like surprise casting news was coming up. Being the Bachelorette ultimately wasn't brought up in Seinne's interview, but she did mention that she's "dating but single." That coyness, in addition to her fantastic edit and fleeting insecurity of not having relatable love stories, practically delivered Seinne's premiere package to Bachelorette producers instantaneously.
Obviously familiar with that mysterious gleam in Chris's eyes, fans on Twitter were convinced that Seinne would be the best addition to the lineup of franchise leads.
Although fourth-place finisher Tia initially seemed like the Bachelorette frontrunner, her attitude toward Bekah M. and her age, as well as her teary "Women Tell All" interview, rubbed some fans the wrong way. There is such a thing as looking too eager to be the Bachelorette. Plus, many feel that the Arkansas native would be a natural fit for Bachelor in Paradise, particularly because of the success her close friend and Bachelor Season 21 alum Raven Gates had on it.
Some skeptical Seinne fans still believe that Tia has a greater shot at the position, doubting ABC's willingness to cast another black Bachelorette the year after Rachel Lindsay's season.
Despite the franchise seeming torn between the two women, the online campaign for Seinne's casting is still gaining steam, and past leads are even throwing their support out there. Following her time on "Women Tell All," Arie tweeted about her, calling Seinne "the definition of class."
Former Bachelorette Rachel has also been a fan of Seinne from the beginning. When the latter had her first one-on-one date with Arie earlier this season and said there weren't love stories with girls that looked like her, Rachel reminded her on Twitter that anything is possible.
In a post-"Tell All" interview with E! News, Seinne briefly touched upon the possibility of being the Bachelorette, saying:
I think it's definitely quite the role... Everyone thinks it's an honor, which it is, but I believe that it's harder than it looks. I would consider it if asked, but I haven't been asked, so we'll see.
While Twitter is at war about the decision, it doesn't look like there's any rising tension between Seinne and Tia because of the debate. On Instagram, Seinne shared photos with Tia from the "Tell All" after party. Looking at this gave me bad flashbacks of the Kaitlyn Bristowe-Brit Nilsson double Bachelorette fiasco, so fingers crossed that ABC won't make the Bachelorette men choose a lead between two women again.
ABC doesn't exactly stick to a definite schedule when it comes to announcing the next lead, so there's no telling when the new Bachelorette will be revealed. I would definitely be pleased if Seinne emerges from this underdog situation and scores the role!
The Bachelor returns on Monday, Feb. 26 at 8 p.m. ET on ABC.