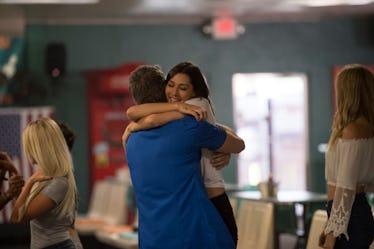 Here's Everything We Know About Becca K.'s Life Since 'The Bachelor'
ABC/Paul Hebert
It is just under a week until the grand finale of Arie's journey for love commences. There are two women standing — Becca K. and Lauren B. — and this season's leading man has said "I love you" to them both. What is about to transpire is being hailed a highly dramatic event that Bachelor Nation won't want to miss, although we can't help but think of what's in store for these contestants when the dust settles and the roses have wilted. So, what's Becca K. doing after The Bachelor?
The charming fan-fave midwesterner won fans over from the moment we read her ABC bio — she listed Sister Act 2 as one of her favorite movies and cited the soundtrack as embarrassing music she listens to often. This means a lot to me, personally. If it doesn't have quite the same effect on you, consider her bubbly personality and overall sweet, down-to-earth demeanor. If you can recall the events of Jan. 9, 2018, you'll remember that she earned the first one-on-one date of Season 22 — Arie took her on a luxury fairytale shopping spree and she went home with some goodies to boot. Now, eight episodes later, she's competing with Lauren for that final rose. And that Neil Lane diamond. Oh, and a life with (and legal binding to) Arie Luyendyk, Jr.
Becca is a publicist who hails from Minnesota, and while her Instagram-of-late is full of throwbacks to her time on the show, she's shared a handful of snaps of her world post-Bachelor filming. The lack of complete transparency makes sense, considering these contestants need to avoid spilling any potential spoilers about their fate on the show while it's airing.
But Becca has made time for some on-point expert Twitter commentary as the season as it unfolds. We truly appreciate her insider insight.
She even elaborated on that bombshell-of-a-scene from Monday's episode, when her ex-boyfriend Ross flew all the way to Peru to profess his love for her and win her back before Arie could potentially propose. Becca wasn't having it. "I stand by my decision to not accept an unhealthy relationship back in my life. I will never doubt or question that," she tweeted during the show.
Arie spoke about his feelings for Becca in his People blog, writing,
Being around Becca was always so easy. Though we hit some rough patches earlier, whenever we had time alone things were progressing. When we told each other that we loved each other, it felt like we had finally totally bridged the distance between us that had formed part-way thru the journey.
"I can't picture a future without him," Becca admits in the promo for the finale. "I don't know where he stands with his love for Lauren." We know that Arie was in fact in love with both of the final two ladies vying for his heart, and that can create quite the conundrum. Based on the teasers and the hints, its obvious that something controversial goes down in the upcoming episodes that will not necessarily please Bachelor Nation.
Contestant Caroline Lunny called out Arie in the Women Tell All special in a shocking confrontation, saying, "I know what you did and I don't know how you could do that. And I just really don't understand, but I really hope you found what you're looking for."
Whatever happens, it's sure to be an unforgettable doozy of finale event. Even former contestant Bekah agrees. The Episode 7 cast-off revealed, "I genuinely think this is going to be the most dramatic season ever. I'm not just being Chris Harrison on that. I think it's going to be very dramatic and very shocking. And I think people will have very strong emotions about the way that this season ends. That's for sure."
When Monday and Tuesday roll around, we're guessing Bachelor Nation's reaction will probably go a little something like this: