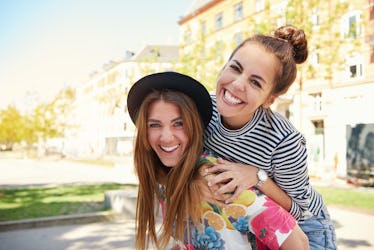 Why Your Best Friend Is The Sister You Hand Picked, Even If She's Not Related
When it comes your crew, you have your friends, and then you have your best friend. Best friends are so much more than people you text all the time and make group plans with on the weekends. They get that extra superlative in their title, because a BFF is the PB to your J, your emergency contact, and your chosen family. You see, you have the family you were born into, and then, you also get that bonus family member who you chose for yourself. When it comes to the latter, there are so many reasons why your best friend is the sister you picked.
If we were comparing sisters by blood to best friend soul sisters, there really wouldn't be much of a difference except the whole DNA thing. Just like real sisters, share all of your secrets, plan epic vacations together, swap clothes, and your favorite nights are spent at home together doing absolutely nothing except catching up over some wine. You're so close that you may even get asked if you're sisters when you're out in public. After laughing to yourselves, sometimes, you just respond with, "Yes," because to you, you are. It's these nine reasons why you hand picked her to be your sister from another mister.