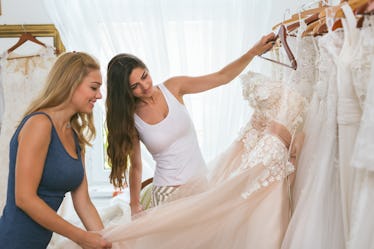 7 Reasons To Go Wedding Dress Shopping With Only Your Sister
Even if there's a big age gap between you, the bond you and your sis share is unbreakable. You were blessed enough to grow up with a built-in best friend, and you wouldn't trade her for the world. I mean, who else gets to brag about having a BFF by their side literally since the day they were born? You feel so lucky, and can't wait to have your partner in crime with you every step of the way as you plan your wedding. One of the first major tasks is finding that perfect dress, and there are many solid reasons why to go wedding dress shopping with your sister.
Finding the right dress can be just as stressful as it is exciting. Scoping out the fairy tale ensemble from head to toe is a pretty big deal, and there's really so much that goes into it. But don't stress, because the perfect dress is out there waiting for you — and you and your sis will find it. Not only is she your BFF (and perhaps your maid of honor), but you know your sister is the perfect shopping companion. The very moment you try on your dream dress, you and your sis will know it's the one. Cue all the happy tears, because these seven reasons to go dress shopping with your sister are truly priceless.