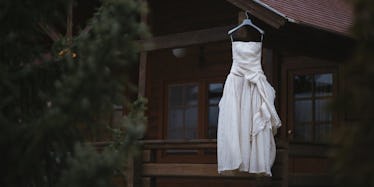 6 Wedding Dresses That Are So Beautiful, You'd Never Guess They're Under $100
It's no secret that throwing a wedding isn't cheap -- which really sucks. Most of us usually have all of the elements of the perfect day in mind, only to have compromise when the budget takes priority. But compromising can be especially difficult when it comes to the cost of the wedding dress.
Even if you don't love all the glitz and glamour of the modern wedding (but I mean, how?), the wedding dress is undeniably the centerpiece of your special day -- uh, after the happy couple, of course.
Nonetheless, you can be sure people will definitely be talking about your dress all through the ceremony, and even the reception. So when it comes to your big day, the dress is the last thing you want to cut corners on.
Luckily, with so many options out there, you might not have to sacrifice the dress of your dreams for the sake of your budget. Maybe, with some good research, you can have the dress you want and save money for the caterer. Here are six stunning wedding dresses that (shockingly) have a price tag of $100 or less.
1. Classic Chiffon A-Line
Off White Chiffon Strapless Sweetheart Corset Long Gown, $96, Unique-Vintage
How gorgeous is this dress? It's practically ideal for a happy couple celebrating their love with a beach wedding.
The simplicity and flowing material will exude romance and keep the spotlight on you and your SO.
2. Floral Lace Slipdress
Floral Lace Slipdress, $78, Nordstrom
This dress is perfectly understated -- it's bridal without being too over-the top, and adds just a dash of sex appeal with the lace overlay.
An unconventional bride will fall in love with the simplicity and flattering silhouette of this dress.
3. Long Sleeve Lace Maxi
Awaken My Love White Long Sleeve Lace Maxi Dress, $84, Lulu's
This long-sleeved dress is a total showstopper. Between the backless detail, the lace sleeves, and the ethereal material, all eyes will truly be on you.
4. Halter Maxi Dress
Love Potion Ivory Lace Halter Maxi Dress, $84, Lulu's
If you're looking for a form-fitting style, you'll absolutely adore this wedding dress, as it highlights all the right places, and the halter neckline hints at Hollywood glamour.
Add a bridal belt, and this dress is sure to look way more expensive than it actually is.
5. One-Shoulder Maxi
Purpose White One-Shouder Maxi Dress, $84, Lulu's
The sweet column-silhouette and one-shoulder detail make this little number the perfect find for an elegant bride.
Paired with side-swept hair, this dress is the perfect match for a refined afternoon wedding. And how can you beat that price?
6. Boho Full Length
Aspyn Cream Crochet Lace Maxi Dress, $82, Lulu's
This bohemian-inspired gown is an ideal match for the free-spirited bride. The sweet lace offers a sense a movement to the dress, and the string-style halter style is sure to be flattering on any woman. Prepare to style your wedding around this show-stealer.
So, the lesson? Don't get upset if your wedding budget seems restrictive. If you're diligent, you'll find the perfect dress at the right price for you. With some effort, you can have a ballin' wedding for way cheaper than you think.