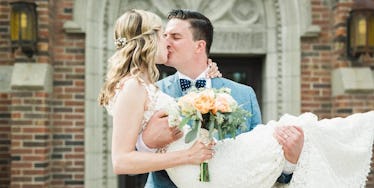 The Average Wedding Costs $35,000 And What People Are Spending It On Is Insane
Ania Boniecka
A marriage is one of the most joyous occasions to celebrate, so it makes sense couples will give an arm and a leg to make sure things go off... with a hitch.
But how much is too much?
Well, The Knot unveiled its annual Real Wedding Study, and the numbers might make you decide to celebrate your future nuptials in a back-alley dumpster.
After surveying about 13,000 couples who tied the knot back in 2016, results showed all the combined costs that went into their special day (like guests, entertainment and location) totaled an average of $35,329.
And 2017 may see an even bigger number, considering the 2016 total was $3,000 more than the average in 2015.
That's like... a lot of Taco Bell, guys.
The takeaway (kind of unsurprisingly) was that while the price of a wedding continues to grow to outlandish proportions, the number of guests actually invited is on a steady decline.
With the average number of guests currently at 141, happy couples are set on making their wedding a memorable experience for everyone involved.
And apparently, that means going apeshit when it comes to in-house entertainment, with photo booths (78 percent), games (18 percent), musical performances (12 percent) and fireworks (8 percent) on the list of common wedding activities.
I guess everyone's gotta do it for the Vine (RIP), or do it for the 'gram, as I always say.
Are you still gagging from the five-digit price tag I mentioned earlier? Just wait.
If you're hoping to wed in rat-infested Manhattan (that I'm allowed to criticize because it is, in fact, my home), you better start saving your loose change pronto.
Couples are reported to have spent around $78,464 on weddings in NYC, with price tags at $67,831 and $62,606 for locations in Long Island and north and central New Jersey, respectively.
And that's just for a few hours out of the day.
I understand getting married is the cool thing to do nowadays, but who are these people trying to impress? I could go to so many happy hours with a load of cash that large. SMH.
I hope they plan on sleeping in the basement of the venue, too.
As expected, wedding dresses on the East Coast also cost a pretty penny. Manhattan and Long Island brides are spending close to $3,000 on a gown.
Do these people realize TLC is not filming them? "Say Yes to the Dress" is sooooo 10 years ago. Give it a rest.
But I mean, I just spent $20 on my goddamn corner-deli breakfast the other day, so I guess you gotta do what you gotta do.
Whoever my future husband may be (I'm looking at you, Liam Hemsworth), I'm going to want is to spend time with him. As long as things feel special for us, I'm good.
I'm sure when you're in the moment, the urge to splurge is much higher, but c'mon now, 64 percent of couples, did you really need to create a wedding hashtag?
Get off your phones and just get fucking married. If you're looking to budget, maybe try in Arkansas (where the average cost was $19,522) or at a McDonald's Play Place or something.
Sounds pretty lit to me.
Citations: The Cost Of Weddings In 2017 Is Legit Horrifying (Refinery29), The National Average Cost of a Wedding Hits $35,329 (The Knot)