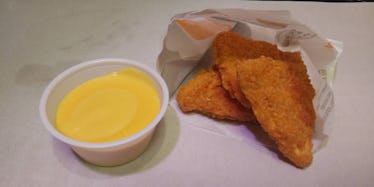 Taco Bell's Crispy Chicken Chips Don't Care About Your New Year's Resolution
Reddit
Over the last several years, Taco Bell has been able to restructure its menu and make it mouthwatering to just about anyone with a pair of eyes.
Back in 2012, the fast food chain announced it would be introducing a new breakfast menu for anyone looking to chow down on egg wraps, breakfast burritos, sausages and Cinnabon Delights.
Since then, the chain has been able to maintain its reputation as one of the most innovative fast food chains out there. Remember the Triple Double Crunchwrap from earlier this year?
What about those epic Cap'n Crunch doughnut holes from 2015? They just don't know when to stop, do they? Further proving my point is Taco Bell's latest offering -- Crispy Chicken Chips.
No, you're not dreaming. Taco Bell really doesn't care about your New Year's resolution to lose 20 pounds. Crispy Chicken Chips are a thing.
The chips are said to be chicken tenders in the shape of tortilla chips. They're served with a side of nacho cheese or Taco Bell's signature hot sauce (because fuck the gym).
According to Cosmopolitan, Taco Bell's new Crispy Chicken Chips were introduced along with another fresh menu item called the Loaded Fries Supreme. It's exactly what it sounds like: loaded fries with all the fixings.
Feast your eyes on Taco Bell's new Loaded Fries Supreme (because the Crispy Chicken Chips aren't enough).
Now, here's all of it at once... Hold on to your butts.
So, what's the catch? Well, aside from having to kiss your New Year's resolution goodbye, the two new menu items are currently being tested at one Taco Bell location in Irvine, California.
If the items are a success, which I don't doubt they will be, Taco Bell could be serving Crispy Chicken Chips and the Loaded Fries Supreme nationwide sometime this year.
Well, we all know who WON'T be making a trip to Taco Bell, though...
One Instagram user commented on a photo of the new foods, saying,
Better go nationwide ASAP, I can't drive 200 miles.
Good thing Irvine is about an hour from Los Angeles. I'm not even a Taco Bell fan. I'm just curious.
Citations: Taco Bell Now Has Loaded Nacho Fries and Crispy Chicken Chips — But Only at This 1 Location (Cosmopolitan)