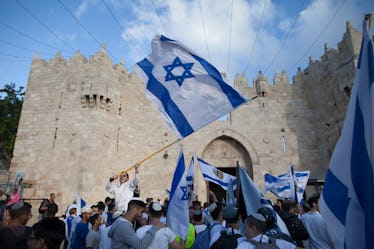 Trump Moving The Israel Embassy Is Already Seeing Deadly Consequences
Lior Mizrahi/Getty Images News/Getty Images
On Monday, May 14, the United States officially moved their embassy in Israel from Tel Aviv to Jerusalem. While politicians and religious leaders from both The U.S. and Israel celebrated the grand opening in the neighborhood of Arona, dozens of protesters were killed along the Gaza border. So, why is moving the Israel Embassy controversial?
President Donald Trump announced back in December 2017 that the U.S. would move their embassy to Jerusalem, officially recognizing the city as the capital of Israel. Trump dubbed the decision "a long-overdue step to advance the peace process and to work towards a lasting agreement." And on May 14, Trump officially fulfilled that promise, which he has campaigned on during the presidential election in 2016.
The ceremony was scheduled for 4 p.m. local time (9 a.m. ET), and although Trump was not in attendance, his daughter Ivanka and husband Jared Kushner were there on his behalf, along with Treasury Secretary Steve Mnuchin. Thousands of Palestinians protested the move along the Gaza strip, and as many as 43 protesters were killed by Israeli forces as a result, according to NPR.
This decision is a controversial one because both Israel and the State of Palestine have claimed Jerusalem as their capital city, because as both the Jewish and Muslim religions have sacred sites located within the city's borders. However, the city is technically split into East and West Jerusalem. The western side has been under Israel's control since 1949, with the eastern side under Jordanian control. But in 1967 Israel annexed the other half of Jerusalem during the Six-Day War, in a move that was condemned by the United Nations.
East Jerusalem is recognized as occupied territory by the international community. This part of Jerusalem is important because it's where the Old City is located, where important religious sites such as Temple Mount, the Western Wall, and Haram al-Sharif are located.
Israel's second capital city of Tel Aviv is currently where all other international embassies are located. The decision to keep the embassies there, as opposed to in the city that Israel wishes to recognize as their sole capital city, is to remain as neutral as possible in regards to the Arab-Israeli conflict. Since the creation of the State of Israel in 1948, the Jewish nation and neighboring Arab countries have fought over their respective borders.
The goal of the United States in this matter is to achieve peace between Israel and Palestine, which is why it has refrained from making any sort of official declaration in terms of recognizing Jerusalem as the capital city of either of the two neighboring states. That is, until Trump took office.
To be fair, moving the embassy and recognizing Jerusalem as Israel's capital isn't a totally new change that Trump himself introduced. Former President Bill Clinton has said that he supports recognizing Jerusalem as Israel's capital, as did George W. Bush and Barack Obama, according to Politico.
But it wasn't until Trump that an official decision on this issue was made. As mentioned earlier, Trump did not attend the embassy opening ceremony. However, he did make a statement via satellite at the event. In his remarks Trump stated,
We extend a hand in friendship to Israel, to Palestinians and to all of their neighbors. May there be peace. May God bless this embassy. May God bless all who serve there, and may God bless the United States of America.
Although Trump says that this move to recognize Jerusalem as Israel's capital is meant to alleviate the conflict between Israelites and Palestinians, it's seemingly aggravated the situation more. And the worrisome thing here is that there's no telling how severe the long-term impact of this decision might be.