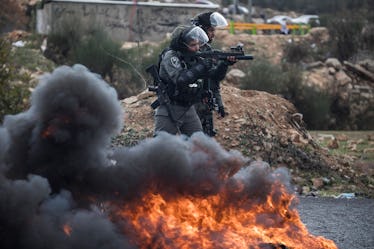 Dozens Of Palestinian Protesters Were Killed By Israeli Forces Ahead Of Israel Embassy Move
Ilia Yefimovich/Getty Images News/Getty Images
Reports swirled Monday morning, May 14, of dozens of fatalities in a clash between Palestinian protesters and Israeli Armed Forces in Gaza — a self-governing Palestinian territory along the Mediterranean Sea. The Palestinian death toll rose to 37 early Monday, according to published reports. Dozens of Palestinian protesters were killed by Israeli forces ahead of a ceremony to mark the Trump administration's decision to move the U.S. embassy to Jerusalem — a controversial move that arguably showed that the U.S. backs Israel in a decades-old land dispute between the Israelis and Palestinians.
While Israeli Prime Minister Benjamin Netanyahu said on Sunday that Jerusalem has "been the capital of our state for the past 70 years" and "will remain our capital for all time," Palestinians view east Jerusalem as what would be their capital, AFP reported. In the late '60s, Israel took over east Jerusalem, but the occupation was never officially acknowledged by the rest of the world. President Donald Trump broke decades of U.S. foreign policy tradition of remaining neutral in the land dispute when he announced in December 2017 that the U.S. embassy in Israel would be moved from Tel Aviv to Jerusalem.
"Today we finally acknowledge the obvious: that Jerusalem is Israel's capital," Trump told reporters in December. "This is nothing more or less than a recognition of reality. It is also the right thing to do. It's something that has to be done."
Trump denied that the decision meant that the U.S. was taking a position on the issue, although The New York Times reported that no other nation has taken such a stance since Israel's founding in 1948. Trump reportedly did not address in his remarks the Palestinian hope for east Jerusalem becoming its capital city.
"When President Trump makes a promise he keeps it," Jared Kushner said in his opening remarks at the ceremony, per Al Jazeera's live video feed.
Broadcast news networks all over the world showed the posh opening ceremony in Jerusalem — attended by Kushner and Ivanka Trump on behalf of the White House, as well as other dignitaries like Israeli President Benjamin Netanyahu — side-by-side with simultaneous violent sparring in Gaza. AFP reported that Monday was "the bloodiest day in the Israeli-Palestinian conflict since a 2014 Gaza war." Thousands had gathered near the border in protest on Monday, per AFP, while smaller numbers of Palestinians approached the fence throwing rocks. Israeli snipers were positioned on the other side. The death count at the time of publication was 37, but that number is expected to rise.
This was literally all taking place while Ivanka cheerfully said, "We welcome you officially, and for the first time, to the embassy of the United States here in Jerusalem, the capital of Israel."
Israeli armed forces said that they would respond to Palestinians with "riot dispersal means and fire," AFP reported. The Palestinian Authority government called it a "terrible massacre." Haaretz, an Israeli newspaper, reported that Israeli forces were bracing for rocket fire later on Monday.
The controversial move from the Trump administration provoked responses from the international community and on social media. Haaretz reported on Monday that Turkish President Recep Tayyip Erdogan said the move is a "reward" for the Israeli government and that the U.S. is disregarding "rights and justice" and is ignoring the international community. The rhetoric of peace and unity at the embassy's opening ceremony, juxtaposed with the images of horrific violence just miles away got some people talking.
President Trump did not attend the opening ceremony Monday, but taped remarks were played for attendees. He also sent Rev. Robert Jeffress in his place — the pastor of First Baptist Church in Dallas and one of his advisers. Sending Jeffress to Israel drew criticism as Jeffress has previously been criticized for preaching that all non-Christians, including Jews and Muslims, will not go to heaven, per NBC News. He also believes that Islam is a false religion, according to his church's website.
It's unclear what exactly this all means for the region going forward. Past presidents have reportedly signaled intentions to move the embassy, but none before Trump have followed through. With scores of Palestinians killed and hundreds more wounded, I hope something is done to stabilize the conflict soon, rather than prolong it.