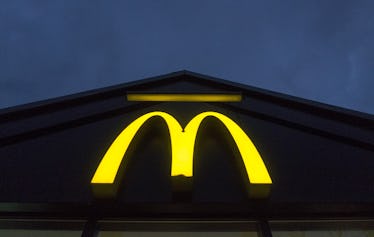 McDonald's Is Seriously Changing Its Look & The Reason Is Kind Of Awesome
Matt Cardy/Getty Images News/Getty Images
By now, you've probably heard that McDonald's is doing some exterior renovations, but if you're wondering why McDonald's is flipping its arches, you're gonna love the reason: the gesture is an tribute to International Women's Day. Said holiday is the perfect time for friends, families, colleagues, brands and businesses to come together and express their gratitude for women and their accomplishments; and McDonald's clearly decided to take advantage of the opportunity. Gotta McLove it.
According to McDonald's Chief Diversity Officer Wendy Lewis, on March 8, one Lynwood, California restaurant will flip its classic golden arches in honor of International Women's Day. Though everyone won't get to experience the change in person, it'll be reflected across the chain's digital channels, and employees at 100 other locations will wear special uniforms in honor of the occasion. When speaking about the motion, Lewis said it was the first time McDonald's would do so in efforts to pay tribute to the accomplishments of women. "For the first time in our brand history, we flipped our iconic arches for International Women's Day in honor of the extraordinary accomplishments of women everywhere," she said according to CNBC.
Lewis continued, "From restaurant crew and management to our C-suite of senior leadership, women play invaluable roles at all levels and together with our independent franchise owners we're committed to their success."
McDonald's spokesperson Lauren Altmin shared similar comments, telling CNBC that the move is especially important because "six out of 10 restaurant managers are women." She said, "We have a long history of supporting women in the workplace, giving them the opportunity to grow and succeed. In the U.S. we take pride in our diversity and we are proud to share that today, six out of 10 restaurant managers are women."
Twitter users had things to say about it.
Some people loved the idea.
But some people thought it was a pretty low bar.
According to PayScale.com, McDonald's offers an average pay rate of $9.08 per hour, which is $1.83 per hour over the federal minimum wage of $7.25 an hour.
And some people interpreted it... differently.
McDonald's isn't the only company celebrating International Women's Day.
Kellogg is also celebrating International Women's Day by sharing a video that shows how its employees "press for progress" (the theme of this year's celebration) around the world. According to a press release from the company, Kris Charles, the Senior Vice President of Global Corporate Affairs and Global Executive Sponsor of Women of Kellogg said,
Celebrating International Women's Day is an opportunity to recognize our employees' successes and to continue the discussion on gender equity. At Kellogg, we are committed to pressing for progress by nurturing a diverse, inclusive environment in which all of our people are empowered to achieve their full potential.
Mattel is also following suit, releasing 17 new Barbie dolls to honor of the day.
According to NBC, some of the dolls include Olympic gold medalist Chloe Kim; NASA mathematician Katherine Johnson; renowned pilot Amelia Earhart; trailblazing artist Frida Kahlo; Wonder Woman director Patty Jenkins, and other historic women as a part of the company's "Inspiring Women" series. All will reportedly come with educational information about their contributions to the world, "to shine a light on real life role models." In a news release, Lisa McKnight, Senior Vice President and General Manager of Barbie, opened up about the additions, saying,
As a brand that inspires the limitless potential in girls, Barbie will be honoring its largest line up of role models timed to International Women's Day because we know that you can't be what you can't see. Girls have always been able to play out different roles and careers with Barbie and we are thrilled to shine a light on real life role models to remind them that they can be anything.
I've just gotta say, all of this is so amazing, but my pockets cannot deal. The inner child in me wants at least 12 of the Barbies (preferably Kim, Kahlo and Johnson, in case anyone got me) and now I feel obligated to buy something from McDonald's (like I wasn't going to before).
International Women's Day is huge.
This year, theme of International Women's Day is #PressforProgress, a call-to-action for gender parity across the world in the midst of powerful movements like Me Too and Time's Up. With the Women's March bringing in a whopping 1.5 million participants back in January, I'm betting that events for International Women's Day just might produce even bigger numbers.
That said, I can't wait to see what goes down tomorrow or what big announcements are made from other companies. Hopefully, someone throws some discounts my way while they're at it, too. Wishful thinking.