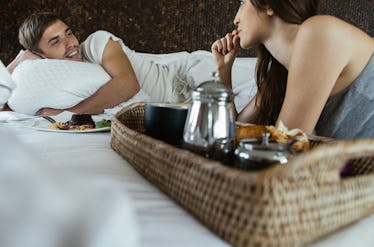 Here's Why Hotel Sex Somehow Feels Hotter Than Sex At Home, According To An Expert
Whether you're on vacation with your bae or having a one-night stand while on a business trip, I think we can all agree that hotel sex is the best. Maybe it's the change of scenery or knowing that everyone in the rooms nearby probably knows exactly what you're up to, but something about getting it on in a room for rent feels undeniably decadent. So, why hotel sex is better than sex at home? Well, it's really not just because of that comfy bed.
Let's face it: It's pretty easy to get stuck in a sexual rut these days. So many of us are under-sexed and overstimulated, not to mention drowning in the stress and anxiety of our daily lives. But most people will agree that there has to be some magical fairy dust that gets pumped through the air ducts of literally every hotel, because the prospect of hotel sex never fails to turn the heat up a few notches for a lot of couples.
And according to psychologist and professor of psychology at York University, Amy Muise, the reason hotel sex seems better for a lot of people is actually pretty scientific. "Vacations can provide opportunities for couples to self-expand ― engage in novel, exciting activities… This can promote sexual desire, sexual activity and sexual and relationship satisfaction," Muise told The Huffington Post.
So it seems what actually makes hotel sex seem steamier isn't really about being in a hotel, but more about the implications of being on vacation with a partner and the mindset that often comes with it. It gives you a break from the monotony. Instead of wading through a blizzard to and from work, cooking dinner, and then trying to unwind before your partner gets home, lounging on the beach and trying exciting new things is much more likely to get you in the mood.
But it's worth noting that the phenomenon of "self-expansion," the process Muise mentioned that involves growing as a result of having novel experiences, isn't something that can only happen while on vacation. There are many ways to channel those extra special fireworks, without having to plan an expensive getaway. Self-expansion within your relationship just requires you to be in new, challenging situations with your partner that break up the predictability of your usual routines.
According to Psychology Today, vacation sex is really just another version of the sex you have at the beginning of a new relationship — it's hot, it's exciting, and, most importantly, you haven't reached the point where your sexy interactions with whomever you're dating have started to lose their luster.
The easiest way to bring back that initial spark of excitement with your partner is to break away from your typical sleep-eat-work-sex routine as often as you can. This might be as simple as meeting up for a quickie on your lunch break or sneaking in some sexting throughout the day. Anything that deviates from your normal routine has the potential to bring that can't-get-enough-of-you fire back into your sex lives.
So if you've been feeling a little bored with your at-home sex routine, there's no need to stress. It's totally natural for your sex life with your partner to dampen over a longer period of time — maintaining an amazing sex life after the initial flames of the honeymoon phase is something that takes effort! So instead of letting yourselves stay in your comfort zones, set some time aside to discover a new side to your bae, perhaps in a new spot!
In a nutshell, hotel sex can feel "better" than regular sex, simply because of the vacation-relaxation element and the fact that you have more freedom and spontaneity than you do on regular day. But finding any new ways to keep things fresh should be just the oomph you and your partner need to start having hotel-worthy sex at home.
Check out the entire Gen Why series and other videos on Facebook and the Bustle app across Apple TV, Roku, and Amazon Fire TV.
Check out the "Best of Elite Daily" stream in the Bustle App for more stories just like this!