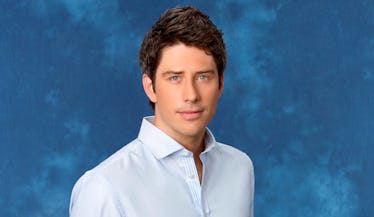 Here's Why 'Bachelor' Arie Is Known As "The Kissing Bandit," If You Were Wondering
ABC/Chris Sjodin
Step right up, ladies and gents. It's time to learn a little bit about the intriguing fellow who is about to be The Bachelor. Arie Luyendyk, Jr. isn't exactly a reality TV unknown — the 36-year-old former race car driver has a history with the franchise. And much like Taylor Swift, the guy has got himself a big reputation. Why is Arie "The Kissing Bandit?" Well, the upcoming Bachelor star is known for his affinity for... making out.
Yes — Arie Luyendyk, Jr has a particular set of skills. It's simple, really. He gained the nickname due to his now-famed ability to steal sizzling smooches from Emily Maynard when he competed on her season of The Bachelorette back in 2012. Even though she ended up choosing Jef Holm over him the show's finale, Arie still managed to hold on to the prestige surrounding his kissing prowess. And "The Kissing Bandit" handle doesn't appear to be going away any time soon, whether Arie likes it or not. Even though ABC has been promoting his "talents" leading up to the season, Arie might want to move on from the title as time goes on. There's more to Arie than making out, people!
"We talked to him about that the other day, and we poked fun at that nickname because it's the worst nickname in the world," Arie's buddy and former Bachelor Sean Lowe told Life & Style in October. "He wants to get away from being seen as just a dude who wants to make out." We're guessing audiences will get to know Arie way beyond the whole kissing thing week to week during his stint as The Bachelor's leading man.
But that doesn't mean we can't learn a thing of two from the pro throughout. Entertainment Tonight recently asked Arie about three tips for a great kiss. His answer? "Good breath. Timing. Kissing's all about timing. And you have to know that the other person wants to be kissed. Three basics," he explained. There you have it. Although Arie also told ET he was going to be "selective" when it comes to kissing on the first night, it does look like there are definitely some makeout sessions in his future. The trailer for the upcoming season is chock full of sultry sneak peeks where Arie is seen locking lips numerous times in a variety of locales, from a hot tub to the Moulin Rouge. Arie is even filmed making out with one of the ladies on a moving jet ski. Yeah, we don't think that nickname he earned five years ago is about to disappear at this rate.
And Arie's dexterity in the kissing department even translates to viewers at home. Former Bachelorette Ali Fedowtowski recently chimed in on the new Bachelor when speaking with Elite Daily, admitting that she recalls watching him in action when he was a competitor. She said,
I remember watching him kiss Emily Maynard on her season and being like, 'Oh my god, that's, like, the hottest kiss I've ever seen!' So, I feel like there's going to be a lot of really, really intense kissing on this season — which is going to be kind of hot but kind of gross, too. So, I feel like I'm going to be kind of looking away at some points, but I wish him the best.
Whether you plan on covering your eyes horror movie-style or you're pumped to watch "The Kissing Bandit" do his thing, this season is bound to be a dramatic doozy. It looks like #BachelorNation is in for plenty of tension, tears, and romance when The Bachelor Season 22 premieres on Jan. 1, 2018. Pucker up!