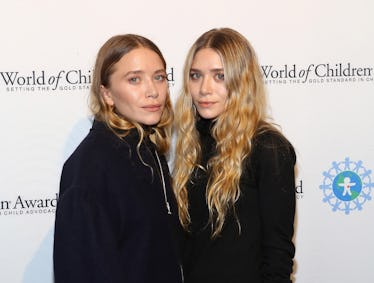 Here's The Reason Why Mary-Kate & Ashley Olsen Haven't Been On 'Fuller House'
Robin Marchant/Getty Images Entertainment/Getty Images
It is the question that every Full House fan has been asking since the cast announced their sequel series Fuller House back in 2015: Where's Michelle? The new Netflix reboot of the '90s sitcom is proving to be just as popular as the original, and managed to reunite the entire main cast of Full House... except one. Although the youngest Tanner child is sporadically referenced throughout the three seasons of the revival, fans have yet to actually see Mary-Kate or Ashley Olsen reprise their iconic childhood role of Michelle Tanner. So, will the Olsen twins ever appear on Fuller House? I took a deep dive into everything the twins and the Fuller House team has said in the past in order to get the answer.
Sorry to break it to all you Fuller House fans, but it really does not look likely that Michelle Tanner will ever pop by the Tanner house again. The Olsen twins have an open invitation to join the new show, but the creator of Fuller House, Jeff Franklin, told Us Weekly recently that ahead of Season 3 (which was released in September), he has stopped personally asking them to reprise their role:
I've stopped asking, really I kind of gave up... But when somebody rings a doorbell, the girls yell, 'It's always open!' on the show so that's kind of how we feel about the Olsen twins. The door is open.
So, that statement seems to make things pretty clear: Mary-Kate and Ashley Olsen will always be welcomed back if they decide to return, but it sounds like the cast and crew have already tried getting them enough and are putting their efforts to rest. So, when the second half of Fuller House Season 3 drops on Netflix on Dec. 22, don't be surprised when Michelle is yet again not part of the action.
The fact that Mary-Kate and Ashley Olsen won't take part in Fuller House really should not be a surprise to anyone paying attention. First of all, although the Olsen twins started out in showbiz as young actresses, they have stopped working in TV and film to focus instead on their fashion careers. Mary-Kate's last acting role was in the 2011 fantasy romance Beastly, and Ashley has not taken a major acting part since co-starring with her sister in 2004's New York Minute, although most recently popping up uncredited in the 2010 satirical biopic I'm Still Here. With more than five years separating both twins from their most recent movie, it seems obvious that they are just not really interested in acting right now.
Also, Mary-Kate and Ashley Olsen made their feelings about Fuller House pretty clear by not saying much at all about it when it was first announced in 2015. After John Stamos made the big announcement about the whole cast coming back for a revival series, the Olsen twins said that they were not aware of the new show until then. Mary-Kate Olsen told Women's Wear Daily that she and Ashley were "shocked" that they had not heard about Fuller House sooner:
We just found out about it today. I guess we're going to talk to the creators and see what's happening... I'm shocked I haven't heard from John [Stamos].
Ashley Olsen added that she talked to her TV dad Bob Saget right before the Fuller House announcement and claimed he did not mention the show:
I ran into Bob [Saget] the other day and we didn't even talk about it... I'm going to call [Saget] and get his perspective.
These statements led to a bit of a Tanner family kerfuffle online, when John Stamos tweeted "I call bulls—t" on the twins' claimed ignorance. Stamos later revealed he "had a sweet talk with M.K." and they were cool, but that still didn't get the Olsen twins on board with the show. Fuller House executive producer Robert Boyett confirmed that the twins would not be a part of the show in a 2015 statement:
Although Ashley and Mary-Kate will not be a part of Fuller House, I know how much Full House has meant to them and they are still very much considered family. It has been exciting to see how they have built their professional careers, and I support their choice to focus on their fashion brands and various business endeavors. I appreciate their support and good wishes towards Fuller House.
Despite the Olsen twins' clear aversion to being part of the show, Fuller House seems to keep needling Mary-Kate and Ashley with fourth wall-breaking gags. In the first season, Bob Saget's Danny Tanner revealed that Michelle was too busy building her fashion empire in New York's to rejoin her family, followed by the cast all staring at the camera for a prolonged period of time. They repeated the gag in both seasons afterward, involving the cast staring at the camera after finding one of Michelle's dresses in a store, and after saying thanks before Thanksgiving dinner.
Fuller House Season 3B will drop on Netflix on Friday, Dec. 22.