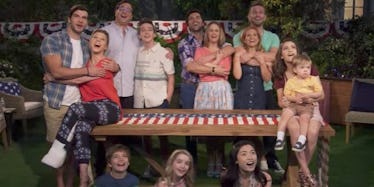 'Fuller House' Season 3 Will Have Lots Of Familiar Faces, But What About Michelle Tanner?
YouTube/Netflix
Fuller House has pulled out (almost) all the stops when it comes to preserving what we grew to know and love about the Full House we fell for back in the '90s. The set is pretty much exactly the same, the catchphrases are uttered on a regular basis, and there's even a golden retriever to complete the nostalgic picture. But there's one glaring thing missing -- actually, two. Michelle Tanner hasn't returned home to her San Fran roots to so much as hang out briefly with the huggable family who raised her. How rude, indeed. So, will Mary-Kate and Ashley Olsen be in 'Fuller House' Season 3?
While the majority of the original cast has returned for the super popular Netflix reboot, the littlest Tanner sis has been MIA throughout the first two seasons. And it doesn't look like Mary-Kate and Ashley Olsen will be making appearances alongside their former TV family anytime soon. Now before you furrow your brow and say "you're in big trouble, mister," remember that it's not like the show just up and pretended another sibling didn't exist once upon a time. There have been numerous references to the sister formally known as Shorty and Munchkin. She's just never shown up in the flesh.
The Fuller House pilot episode even made headlines for throwing some shade when they broke the fourth wall following an explanation of Michelle's mysterious absence. When Stephanie asks where her little sister is, Danny responds, "Well, Michelle sends her love, but she's busy in New York running her fashion empire." Long. Camera glare. LOLs ensue.
There's another scene where Ramona, Kimmy's daughter, buys an Elizabeth and James dress -- that's one of their brands -- and points out the hefty price tag. "At these prices, no wonder they don't need to act anymore," Kimmy notes. More LOLs. Season 2 didn't stop with the meta moments, either. At one point in a Thanksgiving scene, DJ expresses that she misses Michelle and hopes she'll be with them next year. Jesse then looks directly into the camera. "Come, it'll be fun," he pleads. Oh, John Stamos.
You probably know by now that twins and style mavens Mary-Kate and Ashley Olsen run an actual multi-million dollar fashion empire of their own, so going on Fuller House probably isn't their priority. They have a lot going on. Plus, neither of them have acted for years.
But just because we can't count on MK and Ashley to return for more Tannerito fun, doesn't mean other familiar faces won't make a comeback. At a Paley Center Fall TV Preview panel last week, creator Jeff Franklin confirmed that Gail Edwards, who portrayed Danny's news anchor ex, is set to revive her role. Do I sense a rekindled romance? Cue the audience "oooooohs."
We can also expect Marla Sokoloff, also known as Gia Mahan, Stephanie's old wild rival-turned-partner-in-choker-clad-crime.
Even Mr. Bear is taking time out of his stuffed animal schedule to make some sort of fuzzy cameo. Wonder what kind of drama and intrigue he'll bring to the table. JK -- he's a toy. Or is he?!
From the looks of the Fuller House Season 3 trailer, the gang is up to their lovable and playfully wacky ways, because honestly, did you think this show would get super dark or something? Steve's is getting ready to get married, Kimmy's making jokes, there's hugging, and the house is definitely full. Michelle, you're missing out. Is it too much to ask to get a glimpse at a 30-something version of the iconic role? Just one "you got it, dude" for old times sake... Unless the entire cast and crew is really, really good at keeping a major surprise under wraps, we're thinking that's probably not going to happen anytime soon. Aw, nuts.