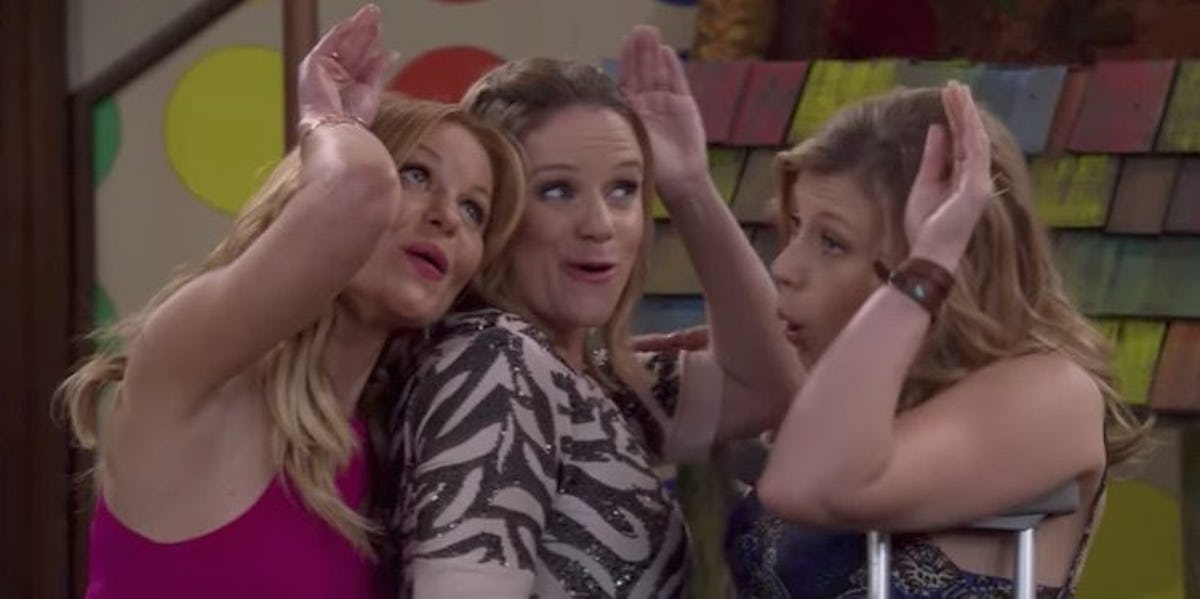 'Fuller House' Season 3 Trailer Celebrates 30 Years Of Tanners, So Yeah, You're Old
YouTube/Netflix
"Everywhere you look, everywhere you go, there's a heart (there's a heart), a hand to hold on to..." Ah, just hearing that unmistakable melody and those warm and fuzzy lyrics takes us back. Full House was on for eight seasons, off the air for two decades, and then came back into our lives and hearts for a Netflix revival. And now the Fuller House Season 3 trailer is here to get us ready for more sitcom shenanigans and life lessons, and to remind us that the world was first introduced to the Tanners 30 -- yes, 30 --  years ago.
So much has changed since Joey and Jesse decided to move into that San Francisco Victorian in 1987, yet so much remains the same. The recently released trailer looks back fondly at the show's history, while of course, poking fun at the fact that DJ and Steph still reside under that very roof.
"And what's really crazy is that we're still in the house we all grew up in," says Stephanie. "Usually when you're still living in your parents' house after 30 years, you'd be considered a bunch of losers," Kimmy quips. Oh, Kimmy. Still got it. But Stephanie reminds them that they're not paying rent, so they're actually winners. Point for Steph.
What else can we expect from Season 3 besides sweet Kimmy and Steph banter? Well, for one, Steve is getting married. And it's not to DJ. He's also planning a wedding in Japan for some reason. And from the look on DJ's sad face, she's still got feelings for her high school sweetheart.
In addition to that twisted turn of romantic events, the gang's (almost) all here! Uncle Jesse, Joey, and Danny all look like they're getting significant screen time, family hugs, and throwback jokes to spare. Prepare for catchphrases galore -- "how rude" is already uttered at least once here. There's also the next generation of cast members also known as DJ and Kimmy's kids. And Cosmo the golden retriever in sunglasses, because you can't make a family-friendly sitcom without a dog in wacky sunglasses. That's a rule. No Olsens present, of course, but you can't win 'em all.
Season 3 will reunite fans with some familiar faces from the original installment. According to Thursday's Paley Center PaleyFest Fall preview panel, Gail Edwards, who played Danny's ex-girlfriend Vicky, will be back. I was honestly heartbroken that the writers gave Vickster the old heave-ho so abruptly back then, so they better have some answers. Fan-favorite and former middle school bad girl Gia (Marla Sokoloff) is another bygone character that will return. Mr. Bear will also make an appearance. Now if only they could give us an update on Derek, or even Stavros... I bet Stavros isn't doing so well these days.
Full House premiered on Sept. 22, 1987, and Fuller House Season 3 will begin streaming on Netflix on that very date, 30 years later. Unfortunately, you won't get to see the whole thing right away. The second half will start up again in December just in time for your holiday binge-watching needs.
While you wait for one of America's cheesiest, yet most lovable families to grace your screens, I suggest you brush up on your fave OG episodes ("Our Very First Telethon" is a personal favorite -- Steph's "Love Shack" dance is on point) and re-watch Fuller House Season 1 and 2 on Netflix. Before you know it, you'll be doing the "Right Stuff" dance along with the Tanners in the comfort of your own living room. Good times.